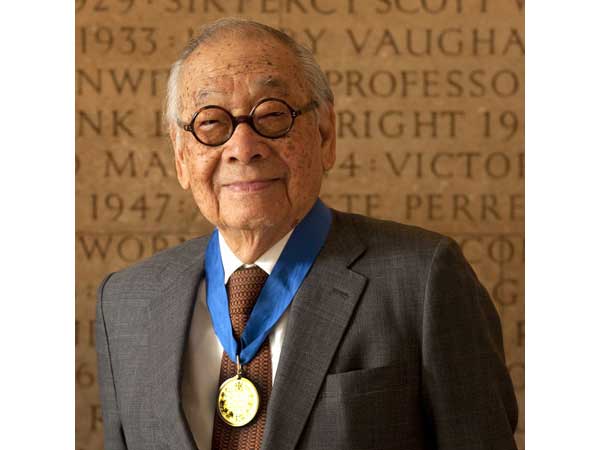 Happy Birthday to one of the most accomplished architects of our time!
NEW YORK, April 25, 2017 – /PRNewswire/ — Born in Guangzhou, China on April 26, 1917, Ieoh Ming Pei moved to the United States to study architecture and later began his career in New York where he still lives today. «New York,» realized I.M. Pei, «is the most exciting city in the world, it pulsates with life.»
He became world-famous for the many masterful structures he designed: The Bank of China Building that shaped Hong Kong's skyline in 1989, the Miho Museum outside of Kyoto, which was built into a mountain, and the Four Seasons Hotel in New York which set standards from the day it opened.
The glass pyramid of the Louvre was completed in 1988. Described by Pei as his most difficult project, it infused the world's largest museum with a dash of modernity. The Museum of Islamic Art in Qatar was completed in 2008; Pei designed it at age 91.
The only condominium building he ever created is the Centurion in the heart of New York City, at 33 West 56th Street. It shares many design elements with Pei's best structures as it combines elegant solidity with geometric precision. Pei even insisted on French limestone for the facade and the foyer of the building, the same he used at the Louvre. Exclusive materials from the East and the West form a perfect harmony.
Other than Pei's skyscrapers and museum buildings, a piece of the Centurion can be privately owned. «We currently have two penthouses available,» says Thomas Guss of New York Residence Inc. (NYR.com) who is in charge of sales at the building. «Occasionally we even get a smaller unit for resale. Each apartment is a true collector's item,» says Guss.
No wonder that some of the most discerning buyers from all over the world have made the Centurion their first or second home and enjoy the very private and refined experience to reside in a building created by a living legend.
The Centurion honors his architect with a classical concert in the Waterfall Lobby of the building; Performers include pianist Marika Bournaki and The Metropolitan Chamber Players with Julian Schwarz; an outstanding group of young world-class performers. The program features works by Chopin, one of I.M. Pei's favorite composers.
CONTACT: Thomas Guss, New York Residence Inc., 212-360-7000 x103, TG@NYR.com
FONTE New York Residence, Inc.