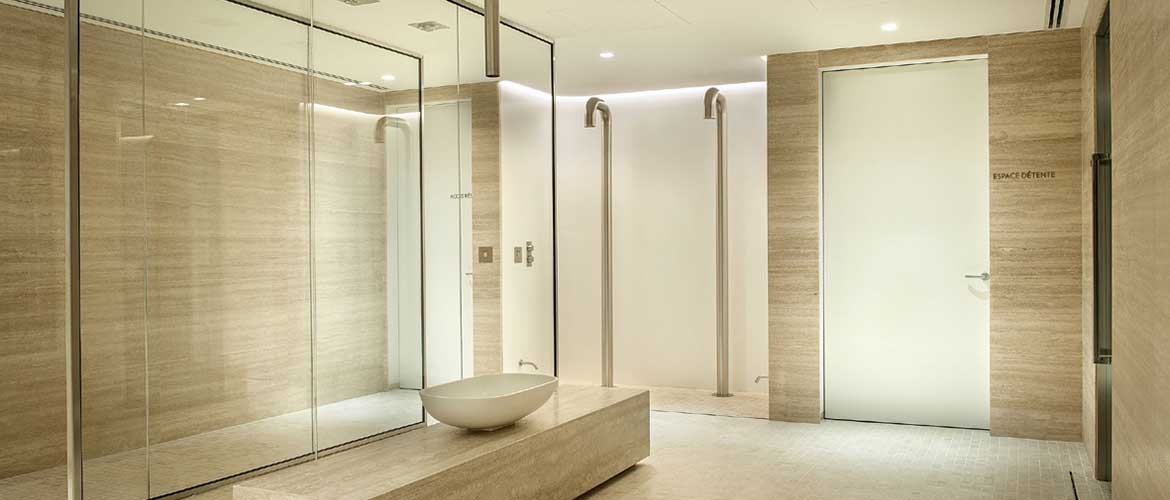 The luxury of being unique
Marble was born even before the first humans, becoming a timeless means of expression for their art, constructions and daily life. This material, created by nature through a slow metamorphic process, skilfully quarried and shaped by Margraf for more than 110 years, creates not only settings of extraordinary beauty, but also unique and sophisticated ambiances that embellish public places and private residences.
Today, as in the past, Margraf designers and architects, true "artists of matter," are able to interpret this natural stone with a modern twist, exalting its characteristics through its use in creations of great value.
The result is a collection of tiles, bathtubs, shower trays and washbasins of various shapes and sizes, which transform the home bathroom environment, or the wellness area of a hotel, into a place of extraordinary refinement and exclusive luxury.
Minimal design, chromatic combinations of different marbles to create a warm and enveloping brightness, and soft and sinuous lines are some of the characteristics of these products made «to measure», with the use of cutting-edge technologies, for demanding customers who are particularly attentive to detail.
Like genuine works of art, these marble wash basins, bathtubs and shower trays fit seamlessly with other bathroom fixtures in porcelain.
Margraf also offers a wide range of marble and mosaic floor and wall tiles in a wide variety of sizes, finishes and colours that provide architects and designers special decorative solutions to create a unique and sophisticated atmosphere in every room.
About Margraf
Margraf's story (former Industria Marmi Vicentini) started in Chiampo (province of Vicenza) in 1906. Since its early start, the company devoted to accurate research work and development of new technologies, working in tight collaboration with famous international architects. Today, after more than a century, Margraf is a leading, world stakeholder in this field. Among many other pluses, Margraf owes its worldwide established reputation to its skilful extraction of marble and the ability to transform it into finished, polished slabs or tiny tiles and to provide a huge array of precious materials and excellent products for building construction and architecture (from the cladding of inner and external walls, to interior design items, to bathroom and kitchen decoration). On top of all this, Margraf ensures extensive environmental compliance investing any efforts to minimize any possible kind of environmental impact. This includes the use of cutting-edge technologies, the implementation of landscape recovery and energy saving practices, as well as the exploitation of renewable resources. Margraf is a perfect merging of past and present forming a first-class enterprise eagerly turned to the future.
www.margraf.it
www.facebook.com/margraf.industriamarmivicentini
Twitter: @margrafspa