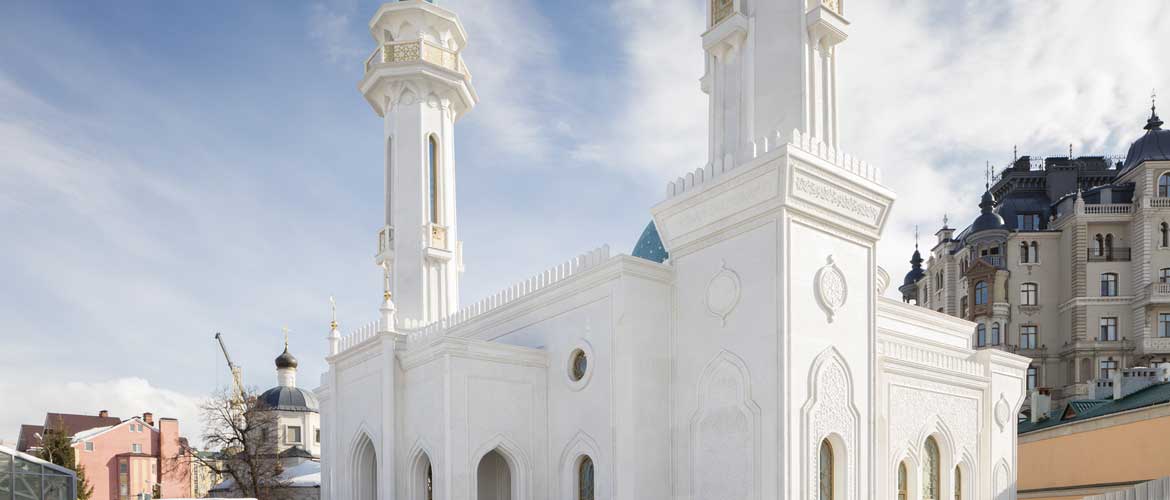 Vicenza-based Margraf has pulled off another astounding design feat thanks to a blend of marble (a unique and eternal material), futuristic CNC processing technology, and artisan attention to detail. The result is the new Irek mosque on the Kremlevskaya embankment in Kazan, in the Republic of Tatarstan (Russia).
The building was designed by architect Evgeny Bolotny and its main distinguishing feature is the distinctive interior cladding. The walls are covered with curved, finely inlaid slabs of Margraf Bianco Sivec marble, from the only Macedonian quarry with "the whitest marble in the world".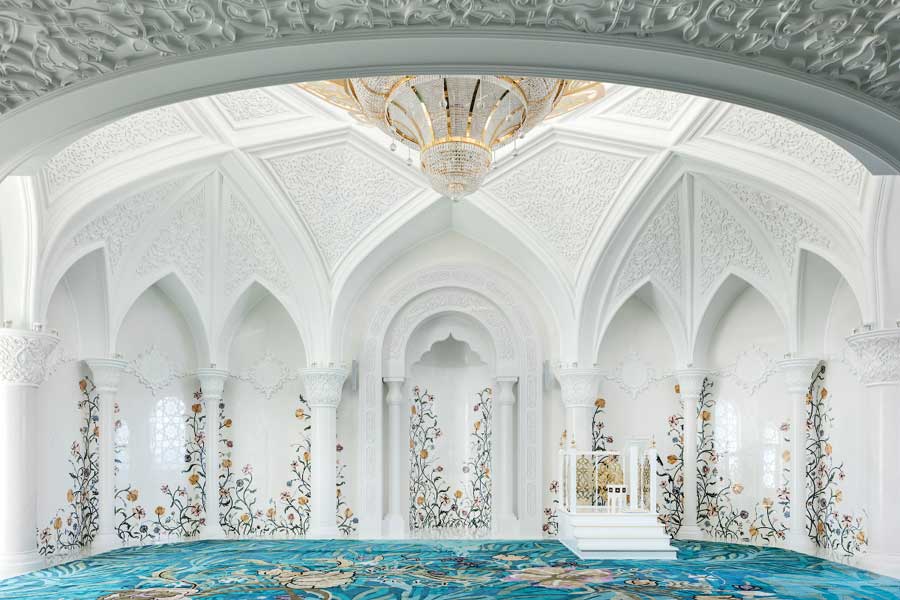 Producing the marble cladding presented a tough challenge for Margraf on the design and technology fronts. In order to ensure that the materials fitted together perfectly on the curved walls, the inlaid floral patterns were cut diagonally using extremely precise algorithm-based calculations and cutting-edge machinery.
Having spent more than a century working alongside top architects on prestigious projects in Italy and across the globe, Margraf has become an icon of quintessential Italian excellence worldwide. Its exquisite marble has gone down in the history of international architecture and made a mark that will last through the ages.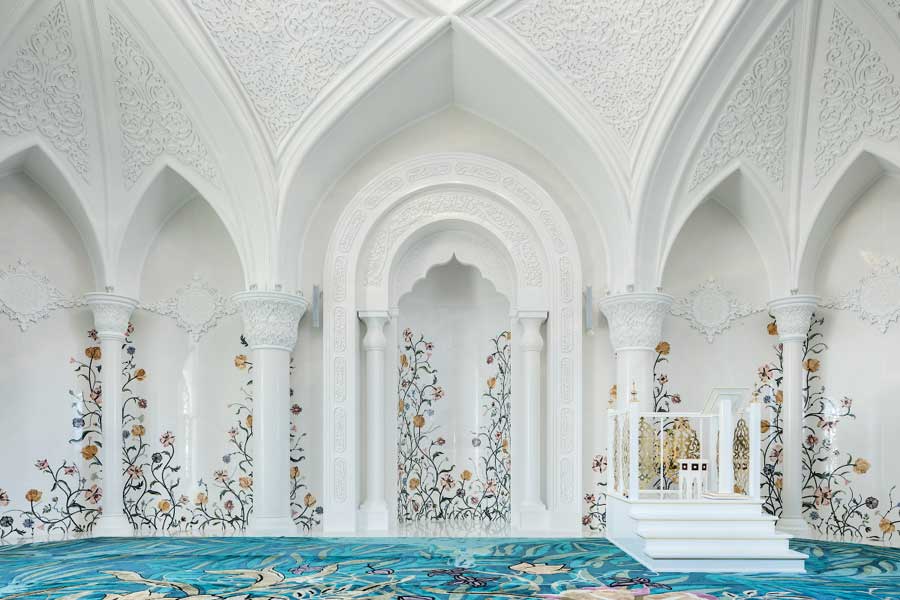 Technical Characteristics:
– Location: Kazan, Russia, 2018
– Designer: Evgeny Bolotny
– Total surface area: 500 m²
– Polished, inlaid curved cladding: 110 m²
– High relief decorations: 101 m²
– Other features: columns, capitals and archivolts
Margraf marbles used:
– Bianco Sivec (the main material, used for the background on the inlaid panels and in the high relief decorations, columns, capitals and archivolts).
– Inlaid floral decorations: Verde Imperiale, Verde Giada, Azul Macaubas, Blu Bahia, Giallo Siena, Onice Giallo, Onice Rosa, Arancio di Selva, Rosa Sabrina, Rosa Portogallo, Rosa Peralba, Rosso Levanto, and Nero Marquinia.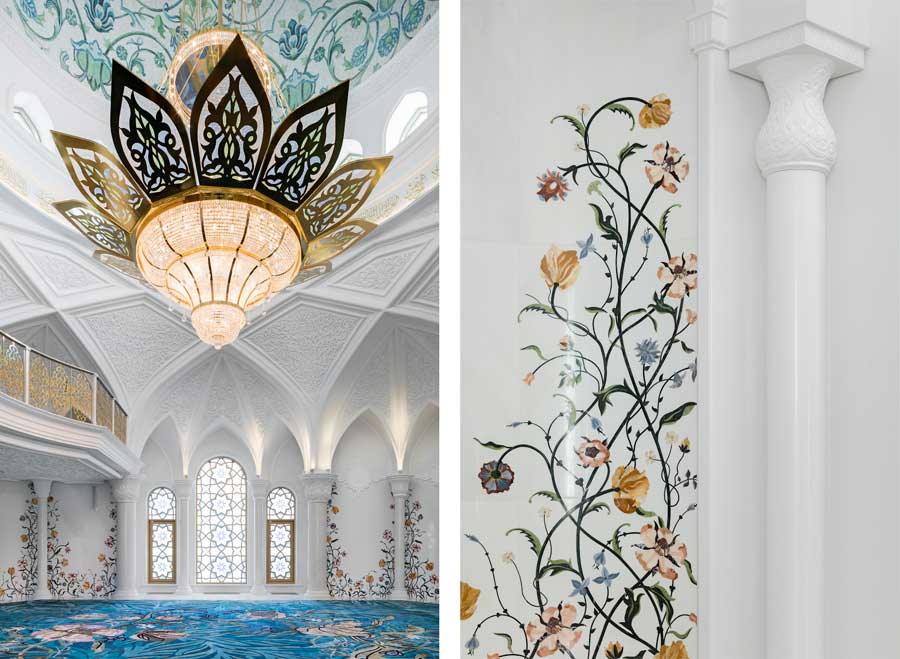 About Margraf
Margraf's story (former Industria Marmi Vicentini) started in Chiampo (province of Vicenza) in 1906. Since its early start, the company devoted to accurate research work and development of new technologies, working in tight collaboration with famous international architects. Today, after more than a century, Margraf is a leading, world stakeholder in this field. Among many other pluses, Margraf owes its worldwide established reputation to its skilful extraction of marble and the ability to transform it into finished, polished slabs or tiny tiles and to provide a huge array of precious materials and excellent products for building construction and architecture (from the cladding of inner and external walls, to interior design items, to bathroom and kitchen decoration). On top of all this, Margraf ensures extensive environmental compliance investing any efforts to minimize any possible kind of environmental impact. This includes the use of cutting-edge technologies, the implementation of landscape recovery and energy saving practices, as well as the exploitation of renewable resources. Margraf is a perfect merging of past and present forming a first-class enterprise eagerly turned to the future.
Información suministrada por
Gagliardi & Partners
Nicolò Soranzo
gagliardi@gagliardi-partners.it
www.gagliardi-partners.it