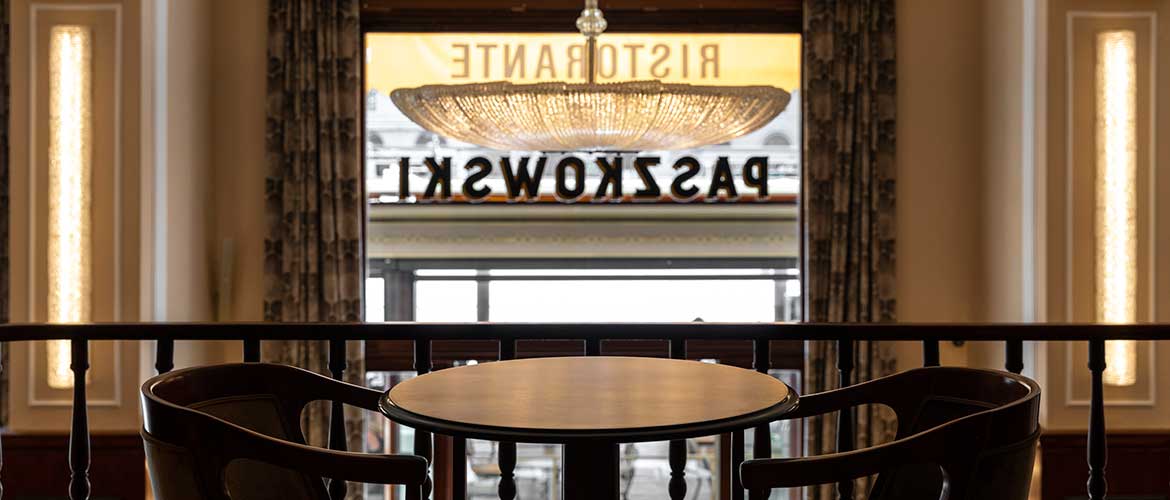 A hub of art and culture in the heart of Florence since the late 19th century.
Having carried out substantial renovation work in compliance with the restrictions imposed by the local Monuments and Fine Arts Office, Caffè Concerto Paszkowski has reopened in Florence. The storied café has been a hub of art, culture and literature since the late 19th century.
Classified as a National Heritage Site and listed among the "Historical Places of Italy", it has been a meeting place for aristocrats, artists and writers for decades. Its tables hosted debates involving figures such as Gabriele D'Annunzio, Giuseppe Prezzolini and Ardengo Soffici, as well as Eugenio Montale, Umberto Saba and Vasco Pratolini a few decades later.
Architects Paolo Becagli, Alessandro Interlando and Nicola Urbinati are behind the interior design. Its core goal is to preserve and bring out the best of the existing, historical furnishings, which cater perfectly to new functional and utilization requirements. The café's traditional appeal is complemented by innovative, contemporary qualities. One of the most eye-catching features is the deluxe mosaic flooring, which is found in all of the rooms and contains Margraf Breccia Paradiso, Botticino and Picasso Gold marble.
The counter has been rearranged and expanded while still reflecting the café's original philosophy. It has a stunning starring role thanks to a solid Margraf Breccia Paradiso marble top with a brushed finish.
Standing on Piazza della Repubblica, Caffè Concerto Paszkowski is once again a key gathering place for creative minds in Florence, thanks in part to the fresh, revitalized selection of cuisine for customers looking for exceptional, exclusive service in unique, highly distinctive surroundings.
Technical details
– Location: Piazza della Repubblica, Florence.
– Interior design: Architects Paolo Becagli, Alessandro Interlando and Nicola Urbinati.
– Functional and technical adaptation plans: Architect Alessandro Consigli.
– Photo credits: Alessandro Moggi.
Type and amount of Margraf marble supplied:
• Margraf Breccia Paradiso, Botticino and Picasso Gold: 190 m² of mosaic flooring.
• Polished Botticino: strips in the flooring, threshold and stairs.
• Solid brushed Breccia Paradiso: counter of the bar and till.
About Margraf
Margraf's story (former Industria Marmi Vicentini) started in Chiampo (province of Vicenza) in 1906. Since its early start, the company devoted to accurate research work and development of new technologies, working in tight collaboration with famous international architects. Today, after more than a century, Margraf is a leading, world stakeholder in this field. Among many other pluses, Margraf owes its worldwide established reputation to its skilful extraction of marble and the ability to transform it into finished, polished slabs or tiny tiles and to provide a huge array of precious materials and excellent products for building construction and architecture (from the cladding of inner and external walls, to interior design items, to bathroom and kitchen decoration). On top of all this, Margraf ensures extensive environmental compliance investing any efforts to minimize any possible kind of environmental impact. This includes the use of cutting-edge technologies, the implementation of landscape recovery and energy saving practices, as well as the exploitation of renewable resources. Margraf is a perfect merging of past and present forming a first-class enterprise eagerly turned to the future.
www.margraf.it
www.facebook.com/margraf.industriamarmivicentini
#twitter @margrafspa
Press info:
Nicolò Soranzo | GAGLIARDI & PARTNERS
www.gagliardi-partners.it