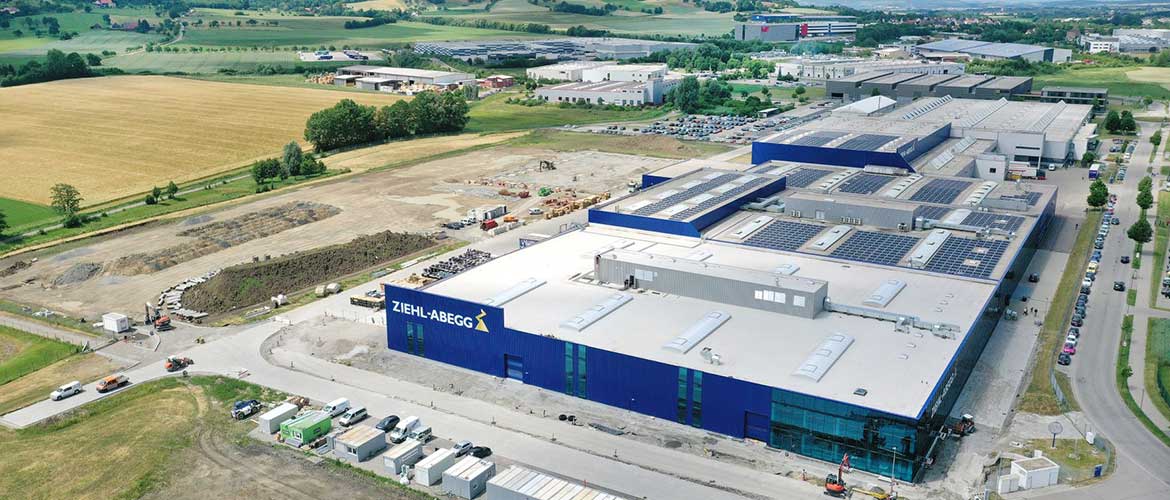 "The world's markets will continue to need high-quality electric motors and fans in the future,» says CEO Peter Fenkl. That's why the Künzelsau-based company invested 16 million euros in the expansion of its production buildings at the Kupferzell site in the middle of the pandemic; this will be followed by a further 20 million euros for machinery. "With the new building, the company is further expanding its high degree of vertical manufacture and the resilience of the supply chains here at the site, whilst also securing valuable jobs both within and beyond the region," emphasizes Dr. Nicole Hoffmeister-Kraut, Minister of Economic Affairs of Baden-Württemberg.
In the early summer of 2020, many economic decision-makers were in shock due to the pandemic. "No-one knew what was coming next – and that's when we started our current construction project," recalls Fenkl. "The year 2020 resembled a rollercoaster ride: rapidly alternating between border closures, interruptions to material supplies, falling sales and rising orders," said the CEO. "Thanks to the commitment of each and every one of the employees, the company still succeeded in posting an increase in sales at the end of the year – followed by an order intake that exceeded all previous records." Fenkl on the new building, "So we're now glad that we've already created more space for rapid growth." New machines and systems that had already been ordered in spring 2020, will be arriving on a weekly basis. It is also intended to create an additional 180 jobs.
"Family-owned companies play an important role in the future of a federal state"
Minister of Economic Affairs Dr. Nicole Hoffmeister-Kraut is pleased with the company's commitment to the Hohenlohe site: "Family-owned companies like Ziehl-Abegg SE play an important role in the future of our federal state. The new building for fan production is a clear commitment to Baden-Württemberg as a location for industry and innovation." Adding: "The corona crisis has shown that functioning value-added chains cannot be taken for granted even within Europe and that the commitment of the corporate sector makes a significant contribution towards securing the prosperity of our federal state."
In the new building an additional 8,700 square metres will be created for the manufacture of a state-of-the-art generation of energy-efficient electric motors. "The durable and efficient electric motor has been our core area of expertise for more than 100 years," emphasizes Fenkl. At the same time, Ziehl-Abegg is a technology leader in the design of fans based on the concept of biomimetics. "However, since many geometries offering perfect aerodynamics cannot be implemented in steel or aluminum, we are expanding the area of composite materials. «It is essential for us to have more space for additional injection moulding machines for composite materials", says Fenkl. Overall, Ziehl-Abegg is expanding its production facilities worldwide or optimizing existing plants: both in Schöntal-Bieringen where the aluminium casting operation is based, as well as at the locations in America and Asia. "Corona has shown that we have to consider very carefully how we can design our production facilities in a way that enables us to satisfy the needs of the market to optimum effect", says Fenkl.
Look back to the last economic crisis: Restart after collapse
"In the 2008 global economic crisis our sales fell by 17 percent and in the following year increased by more than 20 percent – this was only possible because we have very good range of products plus motivated and trained employees," says CEO Fenkl. Against this background, in the previous year Ziehl-Abegg consciously invested on a countercyclical basis. The new building offers the opportunity for increasing the current number of employees at Ziehl-Abegg in the Hohenlohe Business Park from a good 800 to over 1,000.
Key data/ Ziehl-Abegg in the Hohenlohe Business Park.
Total cost of construction: 16.8 million euros (building with 10 loading bays).
112 additional parking spaces for employees .
Additional utilisable area: 8,700 square metres, 1,000 of which is for offices.
Planned additional number of jobs: 180.
Total utilisable area at Ziehl-Abegg in the Business Park: 66,000 square metres .
Previous number of employees at Ziehl-Abegg in the Business Park: approx. 850 (2,400 in Hohenlohe in total, 4,300 worldwide).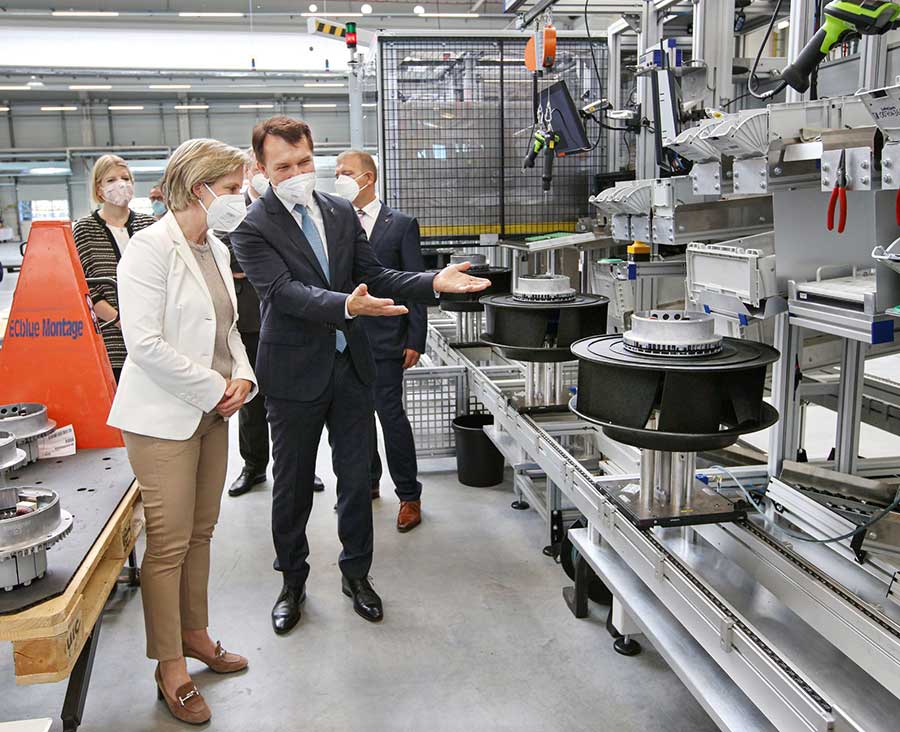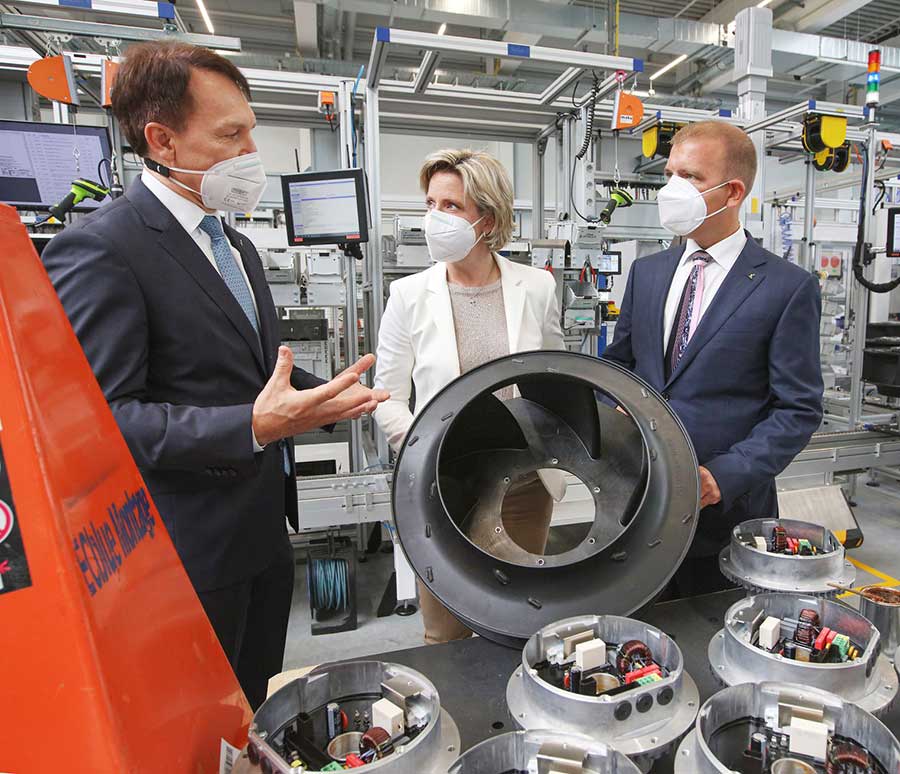 New machines allow for faster and error-free production of modern industrial fans: CEO Peter Fenkl shows Minister of Economic Affairs Dr. Nicole Hoffmeister-Kraut how high-performance fans for data centres and hospitals are assembled.
Photo: Ziehl-Abegg / Ufuk Arslan
About Ziehl-Abegg
Ziehl-Abegg (Künzelsau, Baden-Wurttemberg, Germany) is one of the leading global companies in the field of ventilation, control and drive technology. In the 1950s, Ziehl-Abegg established the basis for modern fan drives: external rotor motors which even today are still seen as state-of-the-art worldwide. Another area of business is electric motors which provide the power, for example, for elevators, medical applications (computer tomography equipment) or deep-sea underwater vehicles. The theme of electro-mobility for motor vehicles was established as part of the Ziehl-Abegg Automotive Team in 2012.
The high-tech company has an impressive innovative capability. Ziehl-Abegg employs 2,400 personnel in its production plants in southern Germany. The company has a global workforce of 4,300 spread between 16 production plants, 29 companies and 108 sales locations. The products, approx. 30,000 in all, are sold in more than 100 countries. Turnover totals 639 million euros, with exports accounting for three quarters of the figure, (all numbers refer to the year 2020).
Emil Ziehl founded the company in Berlin in 1910 as a manufacturer of electric motors. After World War II the company's headquarters were relocated to southern Germany. Ziehl-Abegg SE is not a listed company but instead is family-owned.
For more information go to www.ziehl-abegg.com
Press info:
Rainer Grill / pr / Ziehl-Abegg
rainer.grill@ziehl-abegg.de