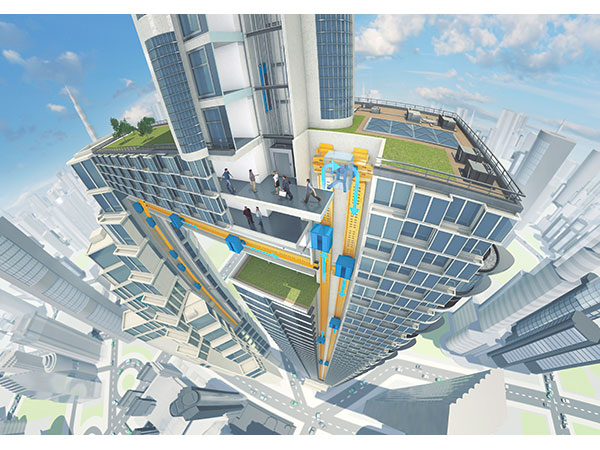 (Essen, 27.11.2014) The era of the rope-dependent elevator is now over, 160 years after its invention. ThyssenKrupp places linear motors in elevator cabins, transforming conventional elevator transportation in vertical metro systems. MULTI elevator technology increases transport capacities and efficiency while reducing the elevator footprint and peak loads from the power supply in buildings. Several cabins in the same shaft moving vertically and horizontally will permit buildings to adopt different heights, shapes, and purposes. The first MULTI unit will be in tests by 2016.
Presented today, MULTI is ThyssenKrupp's latest offering in its extensive repertoire of elevator technologies, representing a landmark revolution in the elevator industry and a new and efficient transport solution for mid and high-rise buildings. Now, the long-pursued dream of operating multiple cabins in the same elevator shaft is made possible by applying the linear motor technology of the magnetic levitation train Transrapid to the elevator industry. MULTI will transform how people move inside buildings, just as the recently introduced ThyssenKrupp's ACCEL, which also applies the same linear motor technology, is set to transform mobility between short distances in cities and airports.
In a manner similar to a metro system operation, the MULTI design can incorporate various self-propelled elevator cabins per shaft running in a loop, increasing the shaft transport capacity by up to 50% making it possible to reduce the elevator footprint in buildings by as much as 50%.
Using no cables at all, a multi-level brake system, and inductive power transfers from shaft to cabin, MULTI requires smaller shafts than conventional elevators, and can increase a building's usable area by up to 25%, considering that, depending on the size of the building, current elevator-escalator footprints can occupy up to 40% of the building's floor space. The overall increase in efficiency also translates into a lower requirement for escalators and additional elevator shafts, resulting in significant construction cost savings as well as a multiplication of rent revenues from increased usable space.
The significant extra space available is only one of MULTI's advantages. Although the ideal building height for MULTI installations starts at 300 metres, this system is not constrained by a building's height. Building design will no longer be limited by the height or vertical alignment of elevator shafts, opening possibilities to architects and building developers they have never imagined possible.
MULTI is based on the concept of ThyssenKrupp TWIN's control system and safety features, but includes new features such as new and lightweight materials for cabins and doors, resulting in a 50% weight reduction as compared to standard elevators, as well as a new linear drive – using one motor for horizontal and vertical movements.
Commenting on this momentous breakthrough in the company's history of innovations at the global headquarters of ThyssenKrupp in Essen, Germany, Andreas Schierenbeck, CEO of ThyssenKrupp Elevator AG said, «As the nature of building constructions evolve, it is also necessary to adapt elevator systems to better suit the requirements of buildings and high volumes of passengers. From the one dimensional vertical arrangement to a two dimensional horizontal/vertical arrangement with more than one or two cabins operating in each shaft, MULTI represents a proud moment in ThyssenKrupp's history of presenting cutting-edge transport technologies that best serve current mobility needs».
Operating on the basic premise of a circular system, such as a paternoster, MULTI consists of various cabins running in a loop at a targeted speed of 5 m/s, enabling passengers to have near-constant access to an elevator cabin every 15 to 30 seconds, with a transfer stop every 50 metres.
Schierenbeck said, «Per year, New York City office workers spend a cumulative amount of 16.6 years waiting for elevators, and 5.9 years in the elevators. This data provides how imperative it is to increase the availability of elevators.»
A 2013 analysis of two-dimensional elevator traffic systems likens the present use of one cabin per elevator shaft to using an entire railway line between two cites to operate a single train – clearly a waste of resources. By combining groundbreaking technology with a simple operation concept and convenience of passenger use, ThyssenKrupp's MULTI will transform the idea of a flexible number of cars per shaft from a distant vision for the future into a reality.
«To get this groundbreaking product onto the market our new test tower in Rottweil, Germany, provides the perfect test and certification environment. The tower is set to be completed at the end of 2016, and by this time, we aim to have a running prototype of MULTI», Schierenbeck adds.
Urbanisation and the global elevator market
Urbanisation is an unstoppable trend, and the scale of movement of people to cities has redefined the construction and infrastructure requirements needed to keep pace with growing urban populations. An estimated additional 85% of the existing urban and commercial floor space will need to be developed by 2025, according to a 2012 McKinsey Global Institute report, which foresees a need of nearly 58 trillion euros in new construction to meet this requirement. Limitations on space in urban areas means that mid to high-rise buildings are the most viable construction options, translating into an immense demand for elevators. By 2016, the global demand for elevator equipment (including elevators, escalators, and moving walkways) and services is projected to rise over 5% annually to 52 billion euros.
About ThyssenKrupp Elevator AG
The Elevator Technology business area brings together the ThyssenKrupp Group's global activities in passenger transportation systems. With sales of 6.4 billion euros in fiscal 2013/2014 and customers in 150 countries, ThyssenKrupp Elevator is one of the world's leading elevator companies. With more than 50,000 highly skilled employees, the company offers innovative and energy-efficient products designed to meet customers' individual requirements. The portfolio includes passenger and freight elevators, escalators and moving walks, passenger boarding bridges, stair and platform lifts as well as tailored service solutions for all products. Over 900 locations around the world provide an extensive sales and service network to guarantee closeness to customers.
Your contact
Michael Ridder
Communications
Pressesprecher
Tel: +49 (201) 844-563054
E-Mail: michael.ridder@thyssenkrupp.com
Laryssa Dreifert
Assistant to Head of Communications
Tel: +49 (201) 844533425
E-Mail: laryssa.dreifert@thyssenkrupp.com