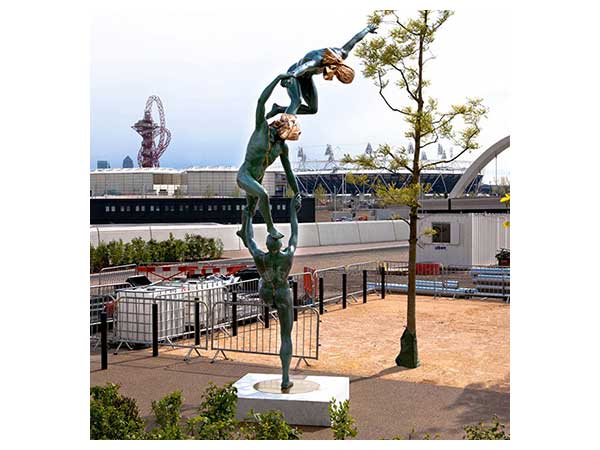 Creator of London Olympic Village sculpture invited by Chinese National Museum to hold first solo exhibition for a western artist on beijing's tiananmen square from october 12th
'Cloak of conscience' creator, Anna Chromy, honoured by china – first woman, first westerner, first sculptor to get a solo exhibition
For an artist with 60 sculptures in public places across Europe it is astonishing that few people in the English-speaking world have heard of Monte Carlo based Anna Chromy. It is as if she has been hiding in plain sight. That is about to change dramatically.
In 2012 the President of the British Olympic Committee, Lord Moynihan, invited Anna to design the sculpture for the athletes Olympic village which was thought by many athletes to be lucky and as such was much touched during the games. It stood in front of the Team GB accommodation
Now the Chinese have fallen in love with her work and are honouring her with the first solo artist exhibition at the hugely prestigious National Museum which fronts onto Tiananmen Square. This fantastic compliment to a Western artist follows on from a previous Chinese visit where Anna was the Guest of Honor of the Guangzhou Arts Fair. Her sculpture, the Violinist Player was displayed on all official announcements, posters and programs.
One can criss-cross Europe and never be far from an Anna Chromy sculpture. They range from Farnham in Surrey to Luxemburg, Stuttgart, Prague, Salzburg, Munich, Monaco, Milan, Menton, Pisa, Florence and Bologna and for two months in 2005 her works dominated the Place Vendome in Paris. In Portofino, Italy, her "Dancer" graces the famous yacht harbor and in Pisa the Myth of Sysiphus stands as the symbol of the University.
Anna is the quintessential European, a Czech who grew up in Austria and is now based on the Mediterranean in Monte Carlo. She is perhaps best known for a monumental 50-ton work in blinding white Carrara marble titled 'The Cloak of Conscience', so big that admirers can walk inside it and use the space for contemplation. The marble comes from the same quarry that produced the five-ton block from which Michaelangelo produced his famous statue of David. This huge 'Cloak of Conscience' is now seeking a permanent home and Jerusalem has been mooted as one that would be appropriate given its association with three world religions.
Another of Anna's well known public works is of the Austrian Conductor Herbert von Karajan which stands in front of his birthplace in Salzburg. It was unveiled in 2001 in the presence of his widow Eliette von Karajan, the President of the Salzburg Music Festival, and the Vienna Philharmonic Orchestra with Ricardo Muti. In 2003 Anna was awarded the "Prize Salvador Dali" and the "Kafka Medal" from the Europe Foundation in Prague – previous recipients include the movie directors Steven Spielberg and Milos Forman.
Anna Chromy detests immobility as a symbol of death wrote the art critic for Le Figaro, Philippe Cruysmans, and indeed her love of music and dance is much in evidence in the movement of her statues. Salvador Dali once said: "Lack of movement is the least one should expect from a statue." And indeed Anna's sculpture takes that minimal requirement to its ultimate – her sculpture may not move but they certainly don't lack movement.
A painter for many years Anna suffered a catastrophic car accident in 1992 which had a profound effect on her. It sent her in an entirely new direction as she recovered, that direction being sculpture. And the move to sculpture has created something monumental – the Cloak of Conscience.
On a special day in June 2005, at the mass for her 40th wedding anniversary the Abbot of the Holy Monastery of Saint Francis in Assisi asked Anna if she could conceive the Cloak as a space of meditation, according to the words of Saint Francis "to use in the absence of a consecrated space our own body as a place for prayer and contemplation". This was the moment that launched the project that Anna had cherished since her first painting of the Cloak, – to create the "Stone-Guest" as a universal symbol of conscience in a dimension never attempted before. To carve this chapel into one single block of white marble Anna had to wait for a whole year until she received on Christmas Eve 2006 the news that the famous Michelangelo quarry in the Apuan Mountains in Tuscany had finally given birth to a piece of marble weighing 250 tons.
One has to wonder if the Chinese are trying to send a message to the West by honouring Anna Chromy. Maybe we too should touch her works for luck and hope that this exhibition presages a new entente cordial between East and West.
For more information please contact Julian Roup on info@bendigopr.co.uk or telephone 0044 (0)1892 669200 or mobile 07970 563958