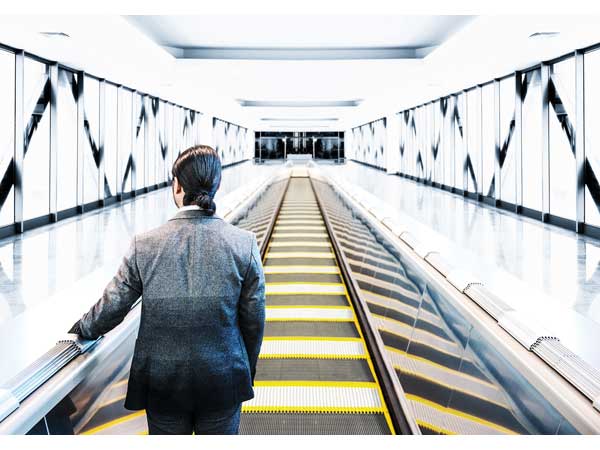 (PresseBox) (Essen, 17.11.2015) Diversified industrial group ThyssenKrupp is calling for more energy efficient design in our urban landscapes, having analysed that energy savings in our buildings need to be implemented now in order to achieve meaningful levels in 15 years. Today buildings account for 40 percent of global energy consumption.
On the Smart City Expo 2015 in Barcelona, the world's leading smart city congress, Andreas Schierenbeck, CEO of ThyssenKrupp Elevator, said, "Buildings in our cities today are being "locked in" to poor energy patterns by inefficient building services which have an average lifespan of 15 years. Facilities such as elevators, heating, ventilation and refrigeration are not running at their most efficient levels, so it is of upmost importance we address this now and upgrade facilities more resourcefully, else we run the risk of low energy performances until 2030."
Every single commercial building that is built today locks in an average of 12,000 MWh of electricity consumption for the next 15 years. In the US alone, every year, more than 150,000 buildings are constructed, resulting in locked in electricity consumption of 120 TWh per year, the equivalent of the Netherlands' total annual electricity consumption. Reducing this by only 10 percent now would save the equivalent of 180 TWh over the next 15 years, equaling reduced carbon emissions of up to 180 Million tons of CO2, equivalent to reducing the number of cars on the street by two million per year or three billion trees planted and grown over the same period.
Schierenbeck added, "The energy production versus consumption debate is nothing new, but rapidly increasing urbanization across the world today is accelerating the conversation and more urgently demanding the creation of a more energy efficient environment. By 2030, up to 60 percent of the global population will live in cities, and energy consumption in these urban areas will increase by around a quarter. As a result, today's energy inefficient buildings will simply not be able to accommodate the rising energy demand, making it imperative for urban development decisions made today for future cities to be forward-thinking and focused on sustainability for generations to come."
Accounting for the largest share of global energy usage today (40 percent), buildings are at the very heart of the energy efficiency debate. In cities, the upward trend of buildings revolves the conversation around how to make high-rise buildings run more smartly; minimizing consumption and reducing the urban energy footprint. With buildings getting taller, elevators are one of the most integral energy-using facilities in our cities and are thus a key area for address when seeking to improve urban energy efficiency.
Innovations for sustainable cities
Andreas Schierenbeck cites innovative technologies such as ThyssenKrupp's MULTI system as one of the solutions that can help. On November 5, 2015, only one year after announcing the concept of its game-changing MULTI elevator technology, ThyssenKrupp unveiled a fully-functional 1:3 scale model at its Innovation Center in Gijón, Spain. The MULTI system uses linear motors instead of ropes, enabling horizontal movement and transforming conventional elevator transportation into vertical metro systems. MULTI elevator technology increases transport capacities and efficiency while reducing the elevator footprint and peak loads from the power supply in buildings.
The ACCEL travelator system facilitates the building of passenger feeders to existing metro stations, making them easily accessible even to commuters who do not usually use the metro due to its distance from their locations. Metro system capacities can now be maximised with new access points, and by increasing the connectivity of current metro networks, the new transportation system could capture 30 percent additional passengers. Implementing ACCEL works as an alternative to building expensive additional stations or carving complex underground connections, and results in a significant decrease in the number of road transport vehicles in use.
Additionally to this product innovations, ThyssenKrupp recently launched an innovative service solution: MAX is a game-changing predictive and pre-emptive service solution that extends remote monitoring capabilities to dramatically increase current availability levels of existing and new elevators. With MAX, data collected in real time from millions of connected ThyssenKrupp elevators is sent to Microsoft's trusted Azure cloud platform, where an algorithm calculates the remaining lifetime of key systems and components in each elevator. Now, ThyssenKrupp's team of over 20,000 global service engineers and technicians will be able to rely on MAX as their wingman, making it possible to inform building owners in advance when key systems or components will need to be repaired or replaced, programme interventions, and thereby avoid out-of-service signs on elevator doors. In a MAX-connected building, people will wait less time for elevators, resulting in decreased stress and more quality time.
Schierenbeck concluded, "The need for sustainable urbanization is something we can no longer ignore, and with a number of clear and tangible benefits, energy-efficient elevator solutions are at the core of delivering truly sustainable cities of the future. The time to integrate these systems into buildings is now. The expertise and products already exist; the challenge is speeding up the integration process to upgrade our building stock more quickly."
The time to address these topics is now!
At a time when the Internet and social media define global dialogues on a multitude of key issues, ThyssenKrupp's URBAN HUB is designed as an international, content-rich digital magazine that promotes interactive discussions about urbanization and what it means for all those involved in the shaping of our cities. Addressing topics such as smart cities and innovations in sustainable and efficient urban mobility, URBAN HUB features videos, photographs, illustrations, and well-researched third-party content in English, German, Spanish, French, and Portuguese. A translation in Mandarin is also in the works.
Explore and subscribe to the award winning URBAN HUB at www.urban-hub.com.
Andreas Schierenbeck is delivering a presentation at the Smart City Expo in Barcelona this Tuesday, November 17. For more information and the agenda, please visit the event website via http://www.smartcityexpo.com/.
ThyssenKrupp
ThyssenKrupp is a diversified industrial group with traditional strengths in materials and a growing share of capital goods and services businesses. Over 155,000 employees in nearly 80 countries work with passion and technological expertise to develop high-quality products and intelligent industrial processes and services for sustainable progress. Their skills and commitment are the basis of our success. In fiscal year 2013/2014 ThyssenKrupp generated sales of around €41 billion.
Together with our customers we develop competitive solutions for the challenges of the future in the areas Mechanical, Plant and Materials. With our engineering expertise we enable our customers to gain an edge in the global market and manufacture innovative products in a cost- and resource-friendly way. For us, technical progress and innovations, allied with the combined strength of the Group, are key factors enabling us to meet current and future customer and market requirements around the world, grow on the markets of the future, and generate strong and stable earnings, cash flows and value growth.
Contact:
Michael Ridder
ThyssenKrupp Elevator AG
Head of Media Relations
Tel: +49 (201) 844-563054
Fax: +49 (201) 844-563054
E-Mail: michael.ridder@thyssenkrupp.com