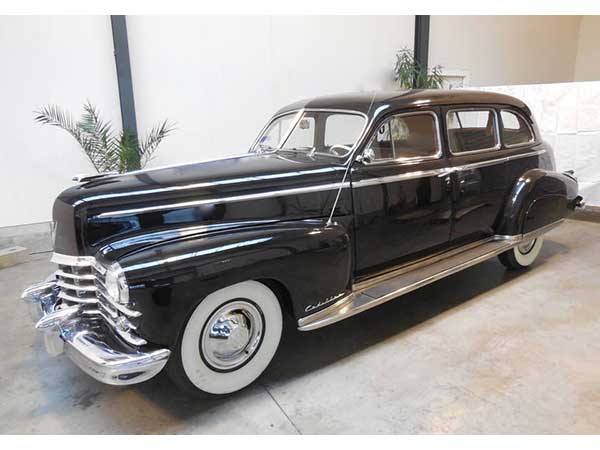 H&H Classics are selling a 1949 Cadillac that comes freighted with the astonishing Kennedy clan history, a presence at the wedding of JFK and Jackie, at the baptism of their children, his presidential inauguration and at JFK's funeral following his assassination in 1963, a story that still perplexes and fascinates the world.
The Cadillac will be sold at H&H Classics Chateau Impney sale on July 10th in the Midlands for an estimated £35,000 to £45,000.
The car was owned by the Archbishop of Boston, Richard J. Cushing (1895-1970), a close friend of the Kennedys (who were Catholics). He officiated at the marriage of John F. Kennedy and Jacqueline Bouvier in 1953 and he baptised many of the Kennedy children and gave the prayer invocation at JFK's presidential inauguration in 1961. Cushing also led the religious ceremony at President John F. Kennedy's funeral in 1963. Research indicates that this car would have carried the Cardinal to all these happy and sad Kennedy events.
Cushing was known for his very liberal views on Catholicism which led him on occasion to openly disagree with the Vatican. He was made a Cardinal in 1958 by Pope John XIII.
The 1949 Cadillac 75 Fleetwood 5-passenger Sedan has a 160 hp 5.4 litre V8 engine. Only 220 cars of this type were made and this is number 103. It is finished in black with a beige/brown cloth interior with wooden trim, and whitewall tyres and has a 4-speed Hydra-Matic (automatic) gearbox. The car is fitted with electric windows and it still has the original radio. It was one of the last Cadillacs with 'Turret-Top' styling. The car is well restored, is in excellent condition and will turn heads at shows or on the road because of its fascinating history and massive size – 5,7 meter (226 inches) length, 1,83 meter (68,5 inches) height and 2 meter (82 5/16 inches) width.
This historic car's second owner was Mrs Jeanne Klonel and her son Mr Ronald S Klonel from Indiana. Around 2000, Ronald Klonel sold the car to a collector from Finland, who in turn sold the car to the present owner in 2004. The Finnish registration document stated that the car was once owned by the archbishop, who led the JFK funeral ceremony.
There is a copy of a letter from the Cardinal in the car's files, dated 1968, to Mrs Jeanne Klonel, stating: 'I pray that you may enjoy this possession for many more years and that it will carry you safely wherever you go'. He also apologised that it was just a brief letter, because he was still mourning the death of Robert F. Kennedy who had been buried only a few days earlier.
Martin van der Zeeuw, H&H Classics agent in Holland who found the car, says: "Every now and then one comes across a car that is particularly interesting not just for its engineering or design or any other physical reason but because it casts a light onto our own human history. And this is one such car, its very close links with the remarkable, brilliant, tragic Kennedy family, makes it an object of particular and historic interest."
The car comes with a large file of its history including all the work relating to its restoration.
For further press information, please contact the
H&H Classics press office on +44 (0)7970 563958,
or email info@bendigopr.co.uk
or press@handh.co.uk
or call H&H Classics Ltd on +44 (0) 1925 210035