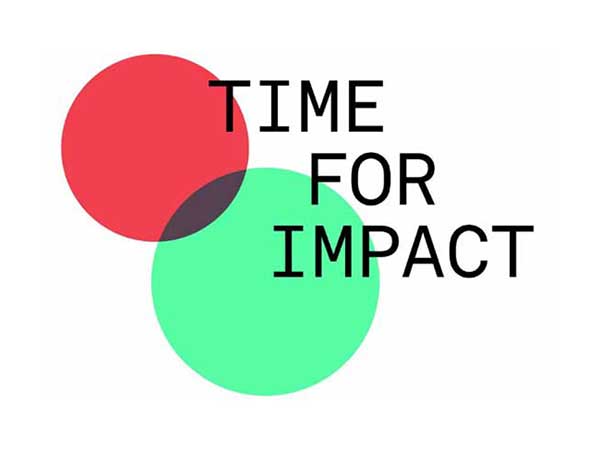 NEW GENERATIONS OF DESIGNERS JOIN FORCES TO FACE NEW GLOBAL CHALLENGES IN RELATION TO TIME. "TIME FOR IMPACT" WAS ANNOUNCED IN VENICE, DURING THE VERNISSAGE OF THE ARCHITECTURE BIENNALE ON MAY 26, 2016. PARTICIPATION IN TERMS OF TIME PLEDGING IS GROWING DAY AFTER DAY AND WILL BE OPEN UNTIL THE CLOSING DAY OF THE BIENNALE ON NOVEMBER 27, 2016.
June 6, 2016 – An innovative program, a design issue, a conscious act of rewriting the great challenges that architecture has to actively take on today. The initiators are a team made up of Italian and Dutch professionals who, at the opening of the 15. Architecture Exhibition of La Biennale di Venezia, announce the need to define new possible paths for architecture and its social role. Many professionals are joining the cause, that announces a changing direction in the use of time in architectural design.
Time for Impact www.timeforimpact.org , curated by Gianpiero Venturini (Itinerant Office / New Generations) together with Marthijn Pool (space&matter) and in collaboration with AiD (Architecture in Development), is one of the 7 projects financed by the Embassy of the Kingdom of the Netherlands in Rome after a call, titled "Sfide delle Città", that was launched last year. Its objectives were announced during the vernissage of the 15. Architecture Exhibition of La Biennale di Venezia, on Thursday May 26, in an open discussion at the Serra dei Giardini.
Participation in terms of time pledging is growing day after day and will be open, on the Time for Impact official website www.timeforimpact.org, until the closing day of the Biennale, on November 27, 2016.
The project is straightforward in its structure: on one side, professionals pledge their time; on the other side, design missions are collected. But it represents a great challenge in itself because it aims at reallocating design resources. In tune with the grassroots approach of Alejandro Aravena's just inaugurated Architecture Biennale, titled "Reporting From the Front", Time for Impact founds its strength on the extended network of relations it is building among the younger and more independent designers. Building networks is also at the basis of New Generations' approach that explores professional models that may counterbalance the big names of world architecture.
"Why does the architecture industry invest huge amounts of creativity and time in design competitions, knowing that only few contributors will be rewarded for their effort? What kind of impact could this industry have if only a fraction of this time was collectively spent on urgent global issues? Is it possible to increase the social relevance of architecture by collectively re-thinking the way architects spend their time?"
These were some of the questions at the center of the debate that saw the participation of: Floris Alkemade (Dutch chief government architect and former partner at OMA), Ole Bouman (Founding Director of the Shekou Design Museum in Shenzhen), Beatrice Galilee (curator of architecture and design at The Metropolitan Museum of Art in New York City), Joseph Grima (founder at Space Caviar), Luca Molinari (architecture critic and curator), Rogier van den Berg (project leader of the Urban Planning and Design LAB at UN-Habitat) with Marco Brizzi (founder and director at Image and The Architecture Player) as moderator.
Joseph Grima pointed out that the use and misuse of time in the architectural profession demands our collective attention, but the way we think about our work needs to be re-structured. Beatrice Galilee reported her personal experience during the Lisbon Architecture Triennale, where they created crisis-buster grants (i.e. funding given to ten projects that benefited local communities) as a direct response to the local challenge of the economic crisis. Ole Bouman acknowledge the proliferation of small scale projects with a potentially high social impact and pointed out that this wealth of good intention needs gravity and crystallization; he further argued the need for a bigger institution as framework for creating leverage, credibility and help society. Rogier van den Berg expanded on the role of the architect as taking over many different aspects of complex situations: "How to frame the challenges? How do pick them from the many the world presents us with? Are architects willing to enter that complexity?" Floris Alkemade highlighted that "the amount of time wasted in offices is obscene, it is a total inflation of architecture and this is an issue that needs to be addressed. At the same time competitions do bring in new ideas". In this context Alkemade argued that is also a matter of what questions are asked by architects so that their role can have relevance and power by using design as a tool. Luca Molinari mentioned that this discussion should be part of the university curriculum as well, that so far seems to train architects without a critical understanding of how they spend (and waste) time. Finally a closing intervention by Changfang Luo from Architecture in Development brought back the attention to the importance of identifying real needs of communities and society via a mutual communication between experts and amateurs. "What are the real challenges for communities? What drives them?".
Time for Impact is a an online platform that works as an Architectural Time Bank and Kickstarting Tool, promoting urgent challenges in the built environment that are in need of design expertise, spatial know-how and budget. Creative people from all over the world are invited to pledge their time and know-how to collectively boost socially relevant projects.
«This years' Biennale, curated by Alejandro Aravena, highlights a broad selection of projects that showcase a high impact factor,» the Italian and Dutch curators say. «As architecture touches on all relevant levels of society, we consider it's important to increase public awareness of the phenomenon. Architecture has risked to grow apart from society in the past few decades. However younger generations of architects are fully aware of their role and potential for impact on society, when using their skills in the right way."
24 designers have already pledged their time and know-how to collectively boost socially relevant projects, and more are expected to join the pool of spatial experts. 9 challenges, i.e. urgent questions in need of design expertise, spatial know-how and a smart budget, have been proposed so far.
The objective for the organizers is to reach 5.000+ supporters, who will pledge their time to collaborate on selected challenges, in the next 4 months. Participation in terms of time pledging will be open on the Time for Impact website www.timeforimpact.org until November 27, 2016, when the collaborative platform will be launched in a public meeting at the Biennale in Venice and the selected challenges will be announced.
Susanne Lambert
Image
Architecture lives in communication.
www.image-web.org
the Architecture Player
Your resource of creativity to unveil architecture in video.
www.architectureplayer.com