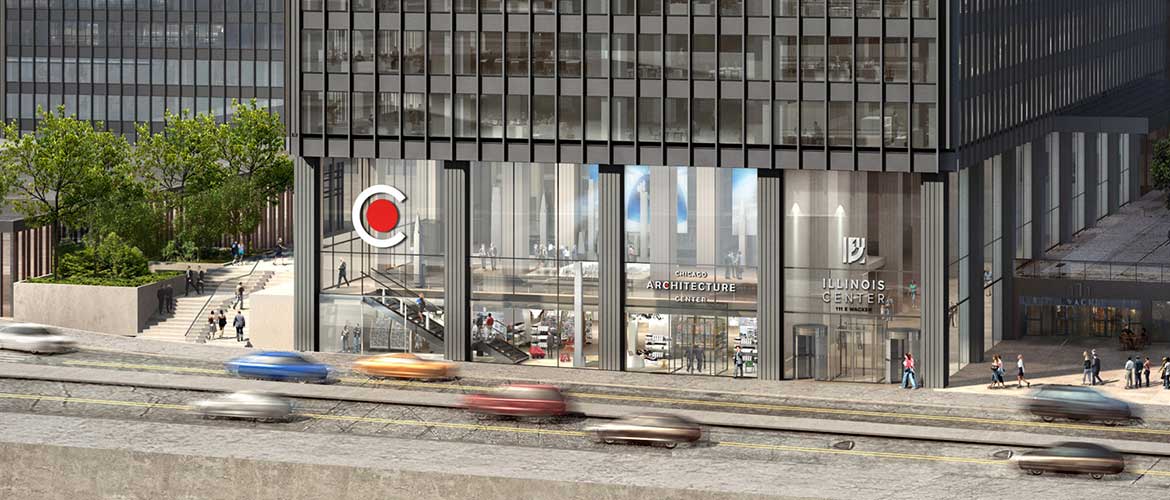 Expanded space near Michigan Avenue and East Wacker Drive will open in summer 2018
CHICAGO (Sept. 7, 2017) —The Chicago Architecture Foundation (CAF) is pleased to announce the creation of the Chicago Architecture Center (CAC), a new, premier destination for discovering Chicago's architectural legacy and its role in shaping cities everywhere. Opening in summer 2018, the 20,000-square-foot center will provide the foundation with expanded space for its growing programs and education initiatives. The center will be located at 111 East Wacker Drive, in a stunning Modern building on the Chicago River, just above the dock for the Chicago Architecture Foundation River Cruise aboard Chicago's First Lady Cruises.
"The Chicago Architecture Center is an exciting new endeavor for the foundation and the city," said Lynn Osmond, CAF's president and CEO. "For more than 50 years, our board of trustees, docents, volunteers, donors and members have been unstinting supporters of CAF. We are all looking forward to providing Chicagoans and visitors with a forum to debate the future of urban areas and learn more about the city that invented the skyscraper."
Adrian Smith + Gordon Gill Architecture (AS+GG), a world-renowned, Chicago-based firm, has been selected by the CAF board of trustees to design the interior of the CAC. AS+GG has experience designing numerous cultural buildings, like the new addition and expansion to the Steppenwolf Theater and a new theater on Navy Pier called The Yard at Chicago Shakespeare. They also designed Jeddah Tower, expected to become the tallest building in the world upon completion in 2020.
"Architecturally the building is a gem," said Gordon Gill, founding partner of Adrian Smith + Gordon Gill Architecture. "The design will create a dynamic and elegant space for CAF that promotes patrons to fully engage in the influence Chicago has on global architecture. The large volume of space fronting the Chicago River also creates an inviting and interactive atmosphere for visitors."
CAF is relocating from the Daniel Burnham-designed Railway Exchange Building at 224 S. Michigan Avenue into another building with architectural significance. Ludwig Mies van der Rohe, the master of Mid-Century Modernism, designed the site plan where 111 East Wacker, also known as One Illinois Center, and several other buildings stand on land once part of the Illinois Central Railroad's complex of tracks. Mies died before the building opened in 1970, but his office followed his original designs to complete the steel-and-glass tower.
Visitors to the CAC will be greeted at a tour orientation center on the ground level before taking an expert, docent-led tour or viewing innovative exhibition spaces designed by New York-based exhibition and media design studio Local Projects. Founded by American designer Jake Barton, Local Projects' credits include the National September 11 Memorial & Museum, One World Observatory and the Cleveland Museum of Art.
"We want the CAC's exhibitions to actively engage audiences and encourage them to keep digging into the many stories and insights we have to share about architecture," said Local Projects founder Jake Barton. "We are so excited to work on this project because we love how architecture inspires people and shifts their experience of space."
The CAC's 9,000 square feet of exhibition space will house an expanded, interactive and digitally enhanced Chicago City Model Experience that will tell the story of Chicago. The City of Neighborhoods Gallery will explore Chicago's rich neighborhoods built by generations of visionaries and will challenge visitors to envision a city that works for them. The centerpiece of the CAC will be the Skyscape Gallery on the dramatic, 26-foot, double-height exhibition space that overlooks the Chicago River and the Michigan Avenue Bridge. The gallery will feature a permanent Tall Buildings and Innovation exhibit that will tell stories of famous skyscrapers in Chicago and around the world and show how architects keep pushing boundaries to build even taller. The CAC will include a custom-designed lecture hall, a hands-on design studio and new retail space for CAF's award-winning shop. The foundation's 70 employees will be relocated to 111 East Wacker in additional office space above the CAC.
"Civic and corporate leaders in Chicago and around the world recognize the crucial role CAF plays in educating youth and adults, both Chicagoans and visitors, about why design matters," said John Pintozzi, chairman of CAF's board of trustees and senior vice president of Allstate Investments. "The establishment of the CAC at the very heart of Chicago makes that role even more prominent. CAC will become a place where visitors from afar and Chicagoans from all neighborhoods will be welcomed to explore the city."
Since its founding in 1966, CAF has grown to become one of the largest cultural organizations in Chicago. In 2016, CAF reached more than 672,000 people through its 85 docent-led tours, as well as exhibitions, lectures, education programs and online tools. The CAC will be easily accessible for visitors and centrally located for tours, allowing CAF to tell stories about contemporary architecture in its new neighborhood along the Chicago River, Lakeshore East and North Michigan Avenue.
CAF is currently in the silent phase of a campaign to raise $10 million to establish the world-class center and to expand education and public programs. A build-out of the space and installation of exhibits will be completed in time for a summer 2018 opening. See our Electronic Press Kit for images and other background information about the Chicago Architecture Center. For more information, please contact Dan O'Connell at 312.322.1134 or visit www.architecture.org.
About CAF
The Chicago Architecture Foundation (CAF) is a nonprofit organization dedicated to inspiring people to discover why design matters. As an education leader in architecture and design, CAF offers tours, programs, exhibitions, field trips, curricula and online tools that are part of a dynamic learning journey for all ages. Proceeds from CAF's tours and gift store, as well as grants, sponsorships and donations, support this educational mission. For more information, visit www.architecture.org.
MEDIA CONTACT:
Dan O'Connell
Director of Communications and Public Affairs
312.322.1134
doconnell@architecture.org