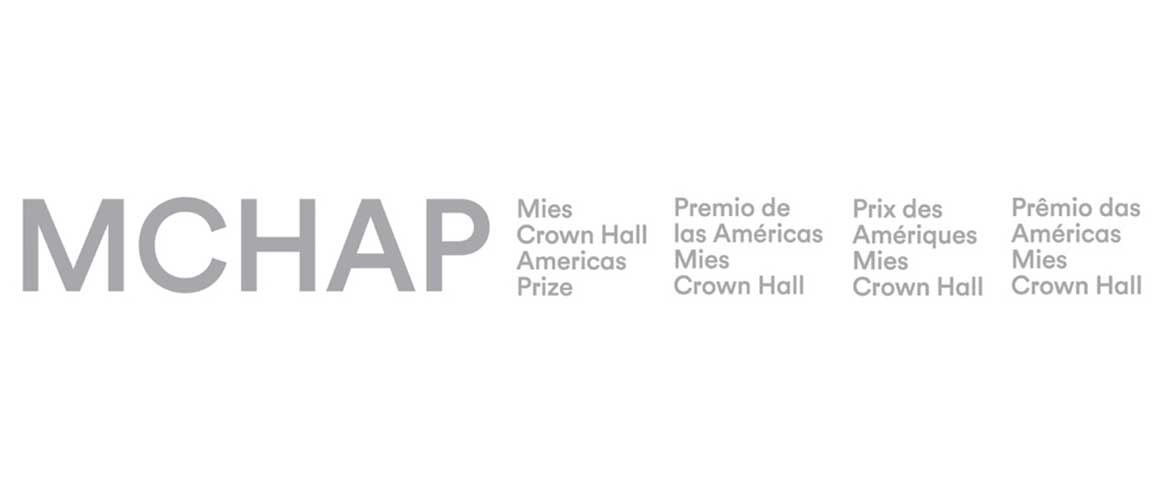 Six finalist projects in Brazil, Mexico, Peru, and the United States
CHICAGO, IL (July 29, 2018) – At an event in Detroit, Mies Crown Hall Americas Prize (MCHAP) Director Dirk Denison and 2018 MCHAP Jury Chair Ricky Burdett announced the six finalists for the 2018 Americas Prize:
· IMS Paulista Andrade Morettin Arquitetos Associados
São Paulo, Brazil
This multi-level, stacked cultural building with galleries, library, and cinema on São Paulo's iconic Paulista Avenue brings the public and pedestrian experience into the structure.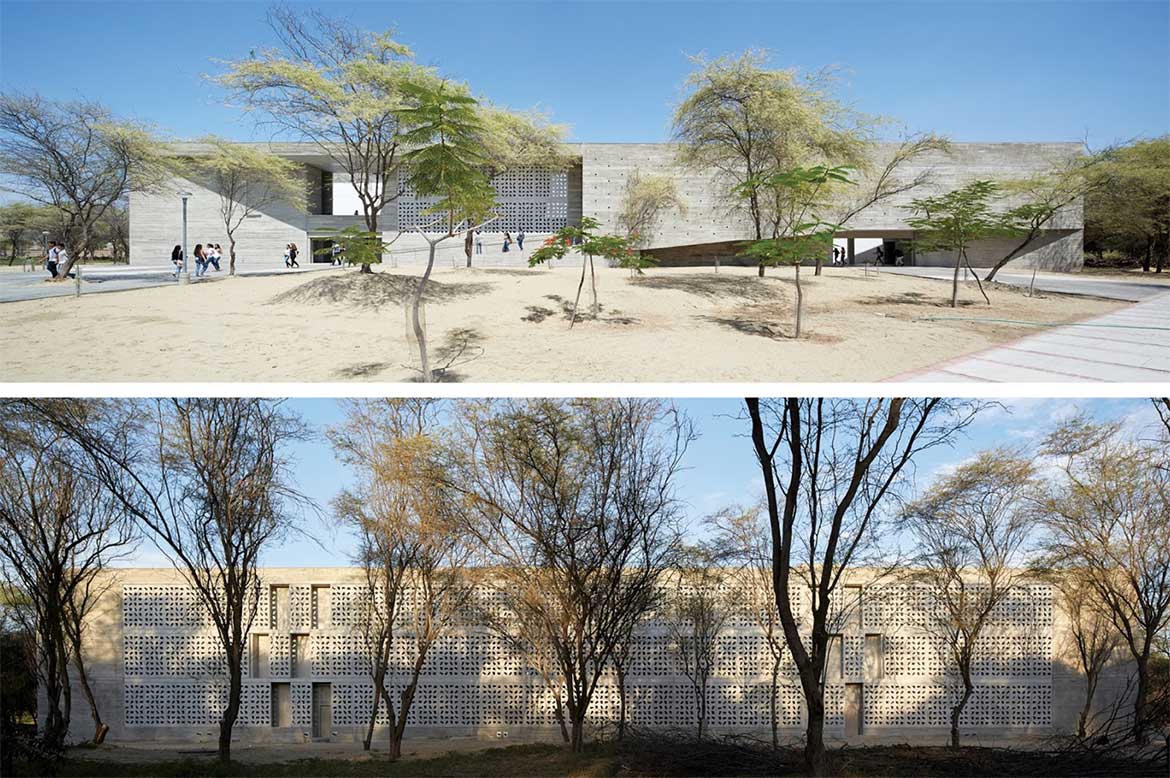 · Edificio E, University of Piura Barclay & Crousse Architecture
Piura, Peru
Set within a dry savannah landscape in the north of Peru, this new university building creates a compact and complex network of interconnected classrooms, offices, and open spaces specifically designed to accommodate students from disadvantaged backgrounds.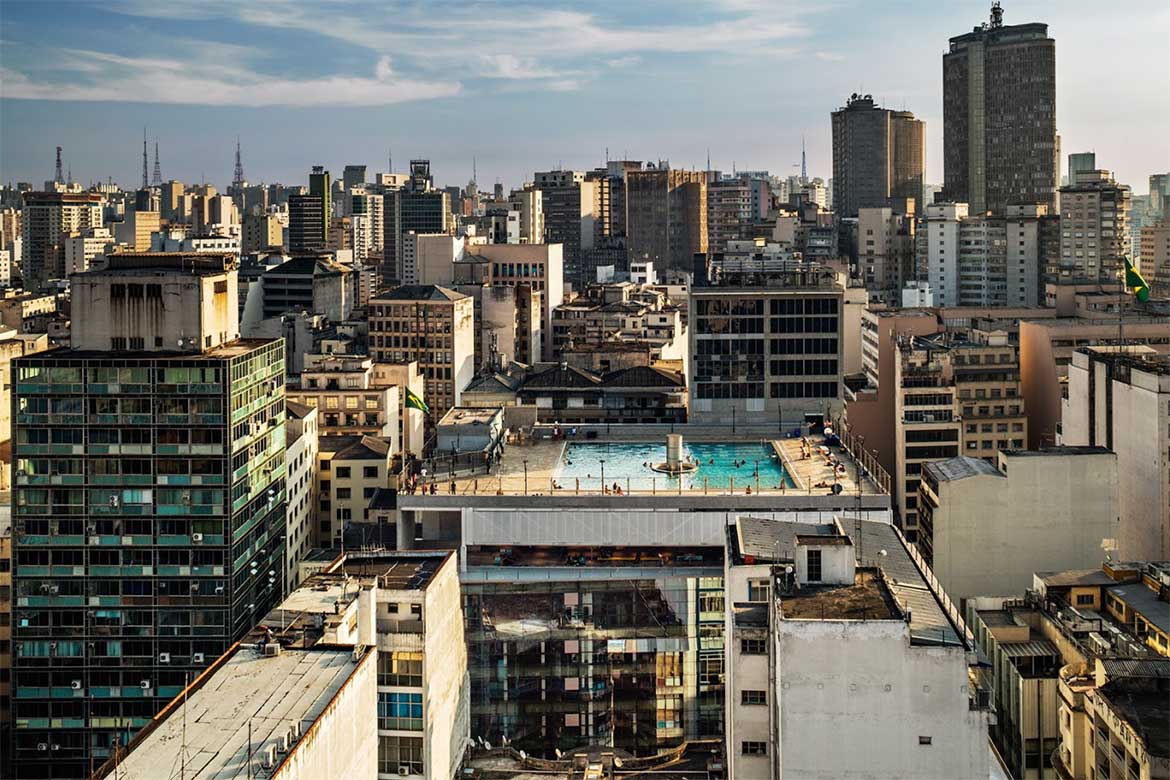 · SESC 24 de Maio Paulo Mendes da Rocha and MMBB Arquitetos
São Paulo, Brazil
Shoehorned into a tight site at the heart of São Paulo's dense but fragile historic center, this institution offers leisure, sports, and medical facilities—including a rooftop swimming pool—to members of its progressive trade association, all connected by a generous 11-story ramp open to all.
· Smithsonian National Museum of African American History and Culture Freelon Adjaye Bond / Smith Group
Washington, DC, USA
Responding with dignity to the Washington Monument and neighboring historic structures, the slanted copper screens of this new museum embrace a deep, multi-level experience for visitors to this site of pilgrimage for African American culture.
· Teopanzolco Cultural Center PRODUCTORA and Isaac Broid
Cuernavaca, Mexico
Adjacent to a Pre-Hispanic pyramid, the sloping roofs of this new sand-colored cultural center enclose an 800-seat auditorium and performance spaces, offering views of the historic site and city beyond.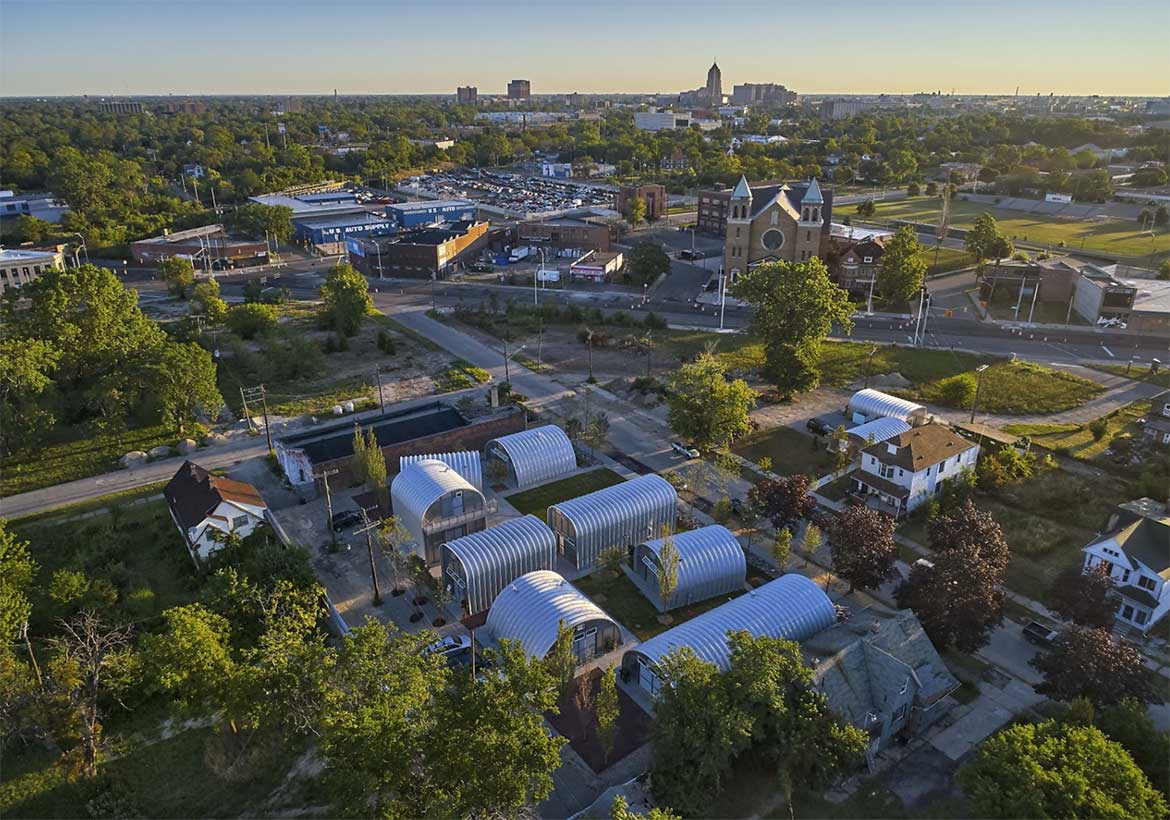 · True North Edwin Chan / EC3
Detroit, USA
An innovative use of industrial Quonset corrugated galvanized steel structures creates a sequence of dynamic external and internal spaces providing affordable accommodation to a new generation of urban pioneers in Detroit's fragile inner-city communities.
The 2018 Americas Prize recognizes the best built work in the Americas completed between January 2016 and December 2017. The MCHAP 2018 Jury includes Chair Ricky Burdett CBE; Jose Castillo; Ron Henderson; Rodrigo Pérez de Arce; and Claire Weisz.
Beginning in January 2018, a network of expert nominators from throughout North and South America anonymously submitted more than 175 projects for the jury's consideration. MCHAP announced a jury selection of 31 outstanding projects at an event in Venice, Italy, in May.
The selection and announcement of the six finalists concludes the jury's tour of the project sites. The visits included interviews with the architects, their teams, and the project clients.
"I have been privileged to embark on a ten-day journey with five other passionate experts to explore, question, and debate what 'quality' means in architecture in the Americas in the early twenty-first century," said Ricky Burdett, Jury Chair. "We were fortunate to meet people of exceptional talent and imagination—both designers and clients—to understand the stories and narratives that have given rise to buildings of real value and meaning."
"The deep connection between architecture, society, and the environment has driven the jury's search for excellence," Burdett continued. "We were not looking for architectural pyrotechnics. We were not interested in one-off iconic objects that could soon go out of fashion. We were not looking for technical ingenuity, however brilliant and ground-breaking. We were interested in buildings that work—for the city, for the institution, for the neighborhood, community, and the individual occupants. Buildings that have meaning and complexity, and enrich the lives of the people who use and inhabit them. We looked carefully at how projects related to their natural and man-made environments, their social and ecological landscapes. We were keen to understand how architects used local materials and skills, making the most of available resources. We were mindful of how buildings would adapt over time, how they would age and respond to changes in everyday practices and lifestyles. We were looking for projects that—regardless of scale or budget—might set new typologies for universities, museums, public institutions, galleries, and housing as we move forward in the twenty-first century."
MCHAP Director Dirk Denison also situated the selection of finalist projects in terms of their potential for lasting influence for both architecture and culture. "MCHAP projects push forward the development of architecture as a practice, reshaping how we see and organize the built environment around us. They participate in the larger cultural exchange that is an essential characteristic of the Americas today," Denison said.
Though the jury appreciated the differences in scales, strategies, and contexts of the finalist projects, they also identified common and sometimes unexpected themes that point to the vibrant, sensitive character of current architecture in the Americas. "We have come away with a sense of optimism. Architecture in the early twenty-first century in the Americas is alive and well. There are clear signals that the design profession is responding to the profound social and environmental challenges of our age with confidence, imagination, and modesty," Burdett said.
"In some ways, we were surprised that the architectural language of some of these very contemporary projects we admired are deeply rooted in the spatial concerns of the mid- or even early twentieth century," he continued. "Many buildings celebrated the 'sectional', three-dimensional experience over the planar and the two-dimensional. Natural daylight and natural ventilation were, wherever possible, prioritized over the hermetic box. The interplay of sun and shadow on internal and external surfaces marked the changing of the seasons and passing of time. Interior complexity, in many of the projects, was prioritized over symbolic facadism. Punctuated solid surfaces emphasized the connection between interior and the exterior. There is a return to the 'brutal' honesty of durable material like exposed concrete, often mixed with local sands or aggregates. Without resorting to the linguistic reduction of Mies van der Rohe's 'less is more', so admirably exemplified by his Crown Hall building at IIT, many of the projects explored the spatial potential of economy of means with maximum impact."
Denison also noted the importance of ending the tour in Detroit. "Detroit is a city that is critical for consideration as we deepen our understanding of the challenges and opportunities cities face today," he said. "Cities are cyclical, and their stories are both highly specific and illustrate wider dynamics. It has been fascinating to reflect on the great cities we just visited, drawing connections that challenge our assumptions and shed new light on the metropolis today."
The authors of the winning project, to be announced at a symposium on October 10, 2018, at IIT, will be recognized with the MCHAP Award, the MCHAP Chair in IIT's College of Architecture, and $50,000 to fund research and a publication.
ABOUT MCHAP
The Mies Crown Hall Americas Prize (MCHAP) is a biennial prize that acknowledges the best built works of architecture in the Americas. MCHAP was conceived by Illinois Institute of Technology College of Architecture in 2013.
Visit http://arch.iit.edu/prize/mchap/ for more information.
ABOUT ILLINOIS INSTITUTE OF TECHNOLOGY
Founded in 1890, IIT is a PhD-granting university with more than 7,300 students in engineering, science, architecture, psychology, design, humanities, business, and law. IIT's interprofessional, technology-focused curriculum is designed to advance knowledge through research and scholarship, while preparing students from throughout the world for a life of professional achievement, service to society, and individual fulfillment.
Visit www.iit.edu for information on all available academic programs.
COLLEGE OF ARCHITECTURE
Headquartered in Mies van der Rohe's historic S.R. Crown Hall, the College of Architecture at the Illinois Institute of Technology is respected by architects throughout the world, for its accomplished alumni, innovative teaching practices, and history of professional excellence. The College's present curriculum is structured around a distinctive horizontal "Cloud Studio" format—a school-wide design and research laboratory in which students from all degree programs work collaboratively. This imparts the skills needed to strive in fields of research and data analyzation, and helps students to develop a practice that questions the ever-evolving roles that architecture, landscape architecture, and urbanization play in the contemporary world.
The College offers a five-year Bachelor of Architecture degree, four Master's degrees (Master of Architecture, Master of Landscape Architecture + Urbanism, Master of Science in Architecture, and an MARCH/MLA Dual Degree), and Chicago's only PhD in Architecture.
Visit www.arch.iit.edu for information on all available academic programs.
SPONSORS
MCHAP is supported by Kohler Co., the Alphawood Foundation, the Mies van der Rohe Society at the Illinois Institute of Technology, and AIA Chicago.
Visit http://arch.iit.edu/prize for more information.
Media Contact:
mchap@iit.edu