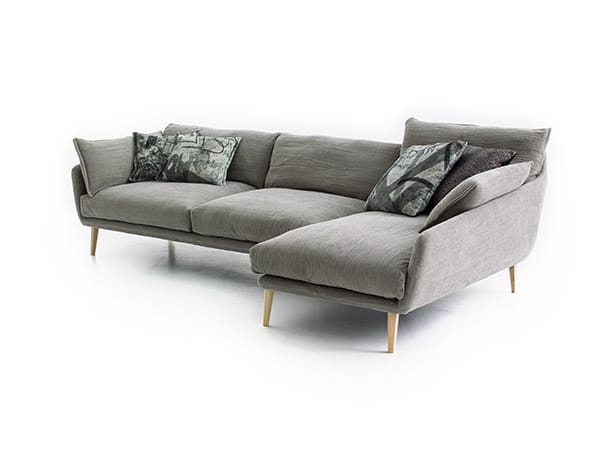 I'm sending some pictures and excellent renderings as a preview of some new products you'll see at this year's Milan Furniture Show.
The new sofa by Tord Boontje, The 22nd Floor Sofa, designed for minimalist, metropolitan apartments, has a frame of aluminium panels which gives it a lightweight and elegant aesthetic. The collection also includes a table (Somewhere Table) with base in bolted steel as if part of the structure of an industrial building. In contrast the top is available in marble, glass, wood or printed Corian.
There are great products also on offer from two young Italian designers, Daniele Bortotto and Giorgia Zanellato, who have developed the Acqua Alta silk weaves design project carried out with Rubelli last year, inspired by the sedimentations of the walls corroded by the water of Venice, designing for Moroso Serenissima, a collection of living area suites. A solid, straight-line frame, reminiscent of the platforms used in the city of canals during the high tide, provides the support for upholstery in silk that is soft and light like a drape and defines comfortable and elegant seating. The visual effect is that of being able to rest against a wall in Venice, sitting comfortably to watch the sunset over the lagoon.
Another new entry is the collection produced together with Diesel Living of which I'm premiering the sofa with chaise longue, Sister Ray Sofa, composed of a slim shaped shell with extra-large cushions as the finishing touch. A play on forms with a vintage inspiration brought up to date by the contemporary materials and by the proportions. The double stitching is a clear reference to the world of denim.
However leave some more room for your imagination as in a little over one month we will show you the new sofa by Patricia Urquiola, the super-tech chair by Ross Lovegrove, the outdoor collections by Sebastian Herkner and Atelier Oi, the new system of seats and sofas by Benjamin Hubert and a few other surprises …
See you at the Show!!!
Daria Triolo
Communication & Press Director
Moroso S.p.A.
at Milan Showroom
Via Pontaccio 8-10
20121 Milano/Italy
+39.02.878990
www.moroso.it