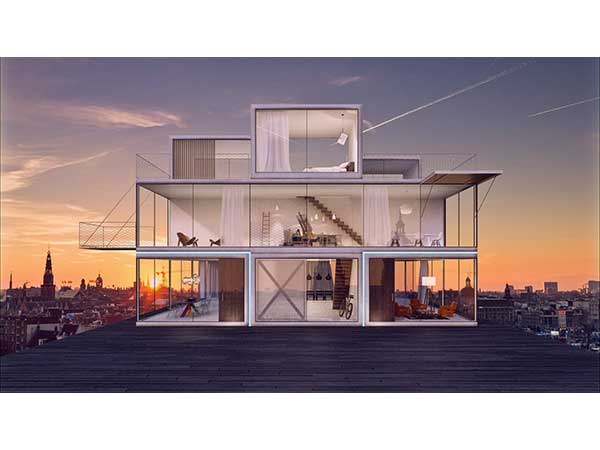 Amsterdam, the Netherlands, November 30th, 2015 – Three equal linked houses that all have a 360 degree view and maximum openness. The design is made by Dutch architect Janjaap Ruijssenaars (Universe Architecture) and is now ready for production in different countries. Dutch National Press agency speaks of 'Row housing with a 360 degree view!'
With a steel modular structure and meccano like facade the residents of a Tetris House are free to add elements such as balconies or shutters and change the interior tot heir needs. The Tetris House design, a simple system of piling blocks, can be licensed to interested developers.
The first envisioned realisation in The Netherlands (Leimuiden) aims to celebrate its surrounding nature with floating selfsufficient Tetris Houses. Renowned Dutch firm i29 partnered up for designing unique interiors for future residents, minimal or extravagant.
Janjaap Ruijssenaars is the founder of Universe Architecture and is known for eye catching projects like Floating Bed (elected best invention by TIME magazine), Landscape House (TIME magazine: «The 3D-Printed House?! A Dutch Architect and Mathematician Break the Mold») and Gravity Energy. His company became globally successful with a simple yet effective approach for projects: Innovation by going back in time.
www.tetrishouse.nl
www.universearchitecture.com
For more info:
Tetris House / Rokin 69 / 1012 KL / Amsterdam
Janjaap Ruijssenaars
info@universearchitecture.com
+31 (0)20 616 54 24
+31 (0)655 181 328