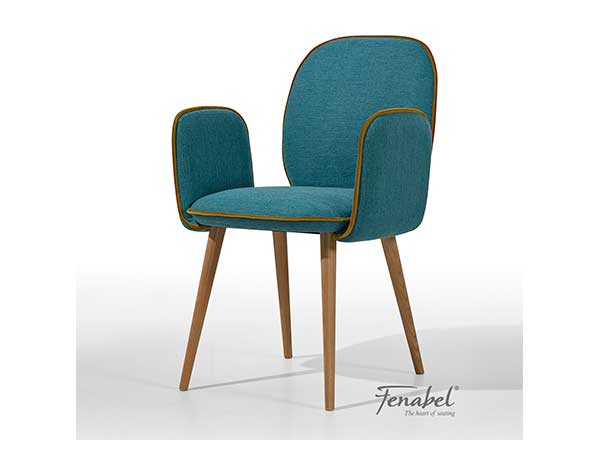 from 12 to 17 of April. Pav 14 | Stand C34
Synonymous of trend, innovation and novelty, exhibiting companies follow the challenge posed by Salone del Mobile Milano and show their latest Creations and news.
At the 55th edition of the Salone del Mobile, Fenabel will be presenting 37 models, including 23 from the new 2016 Collection, created by the designers Gianluca Tonelli and David Carlesi (from Area 44 Studio), Aitor Garcia de Vicuña (AVG Studio), Giacomo Cattani (Sagitair Studio) and Nuno Barbosa from Fenabel's own design department.
Simple yet bold chairs' ranges and materials, composing a variety of effects and shapes, where innovation can be observed in the structure of the models' and their versatility.
We can highlight Ranges like Elicia and its cosmopolitan style; an appealing Bom Bom Range one desires to sit on; an orient driven Tao range with refined lines; a vintage Looking Soft Range.
It's patent simplicity allows the designers and architects an infinity of options for their projects.
Beech and Ash Woods are at the base of the entire collection and the stain colours range from soft natural matte colours, medium greys and the "super trendy" walnut.
Fenabel, The Heart of Seating, a wooden chairs producer, focuses on a refined and different concept and that is what characterizes this Portuguese company: its' constant ability to adapt to the demands of every market and their clients' requests.
Operating for almost 25 years and with a staff of 90 people, Fenabel exports 70% of its production to 36 countries, and has an annual turnover of 7 million.
Find the full range of news and surprises that Fenabel has prepared for you from the 12th to the 17th of April at booth 34, Pavilion 14 at Milan Fairgrounds.
You Are Invited
EXHIBITIONS 2015:
IMM Cologne – Germany
ISaloni – Italy
HD Expo – Las Vegas – USA
EXHIBITIONS FOR 2016:
IMM Cologne – Germany
Interdecoração – OPorto
ISaloni – Italy
HD Expo – Las Vegas – USA
Maison&Objet Americas – Miami – USA
Homimg – Lisbon
About US
Fenabel – The heart of seating
Fenabel is a leading company on the production of wood chairs for home and contract market. Created in 1992, in Rebordosa, the family company that is already in its third generation, joining "know-how, experience and professionalism" it's capable of offering a high quality product recognized world-wide. The company, with a turnover of 7 million euros, it's present in more of 10 countries, as France, Italy, UK, USA, Holland and Canada.
Fenabel has a production capacity of around 1200 units monthly, with a team of 90 employees that work hardly and carefully to fulfill the compromises taken with the clients.
With high-tech equipment, Fenabel joins tradition with innovation, with special attention for the design and advanced production methods. The brand Fenabel – The Heart of Seating has a personalized service "tailor made" and "customer made" with solutions adapted to the client needs.
For Further Information's please contact:
Carla Gomes
Communication Design & Marketing
design@fenabel.pt
www.fenabel.pt