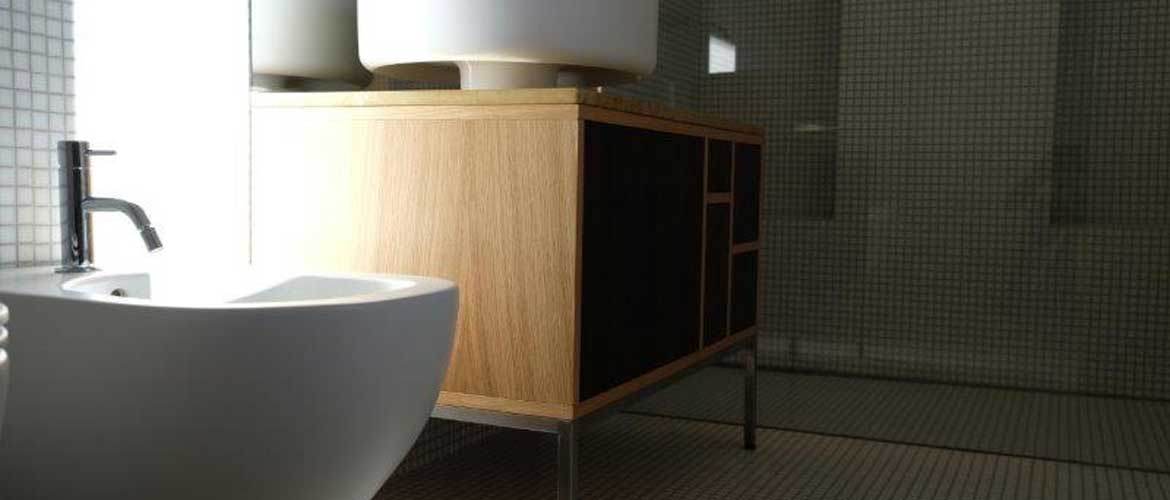 The Allen Architettura studio has followed the renovation and relooking project of a bathroom in a private apartment in the province of Bergamo, changing completely its aspect and making it functional, harmonious and comfortable.
The room was thought as a minimal and essential place, where walls and floor are entirely covered by white mosaic.
The wood washbasin cabinet, designed by the architects and handcrafted made, and the ochre velvet curtain, which hides the window giving a scenographic touch to the room, are the only notes of colour.
The shower, divided from the rest of the bathroom by a glass sheet, completes the background scene with two niches, one for the towels and the second one where it is possible to sit and relax taking a shower inclining the shower head.
For the taps and fittings, after a careful research, was chosen the elegant simplicity of the Reverso series by Ritmonio: the chrome finishing exalts the mixers pure lines, characterized by a curved spout.
Particularly, for the basin mixer was chosen the built-in model, placed in a precise cut of a mirror, which goes from the washbasin cabinet to the ceiling.
Elegance and maximum versatility are the winner features of the series, that knows how to combine esthetics and practicality, conferring to the environments an unique style: the Ritmonio style.
Ritmonio is a company with two sides: the Factory Division, which for more than 70 years has manufactured safety valves and brass, copper, aluminium and stainless steel components, and the Bath & Shower Division, which produces designer taps and fittings for bathrooms. By combining fine craftsmanship, design and production skills, Ritmonio creates exclusive and authentic Made in Italy products that are functional yet stylish and eco-friendly.
Press Info:
Ufficio Stampa e R.P.
Gagliardi & Partners
gagliardi@gagliardi-partners.it