Effe has been chosen yet again to take part in an exclusive project dedicated to the art of hospitality: the Elle Decor Italia project-installation – now in its fourth year – which showcases the design of hotels of the future and each year features some of the biggest names on the contemporary design scene.
The 2019 Elle Decor Grand Hotel Milan features the Matteo Thun & Partners studio which was commissioned to create a pop-up hotel in the beautiful spaces of Palazzo Morando, focusing on the theme "Design Therapy".
"Design Therapy" reflects on an increasingly important aspect of the hospitality industry: the idea that comfort is linked to physical and mental wellbeing. The installation features solutions offering a holistic vision of the hotel of tomorrow, where the wellbeing of guests is the cornerstone of the interior design project.
Effe, specialised in custom high-end hospitality projects, has created a spa with a sauna and Hammam with the creative input of Matteo Thun which, as always, focuses on sustainability and beautiful natural materials. This vision is shared by Effe, which develops cutting-edge systems to reduce consumption and heat loss and optimise on and off periods.
The sauna set up in Palazzo Morando occupies 22 sqm and is fitted with a professional heater suitable for large-scale projects. The whole space is clad in dark, solid heat-treated wood with a bend texture finish which was custom designed for the occasion and inspired by the irregular surface of natural wood.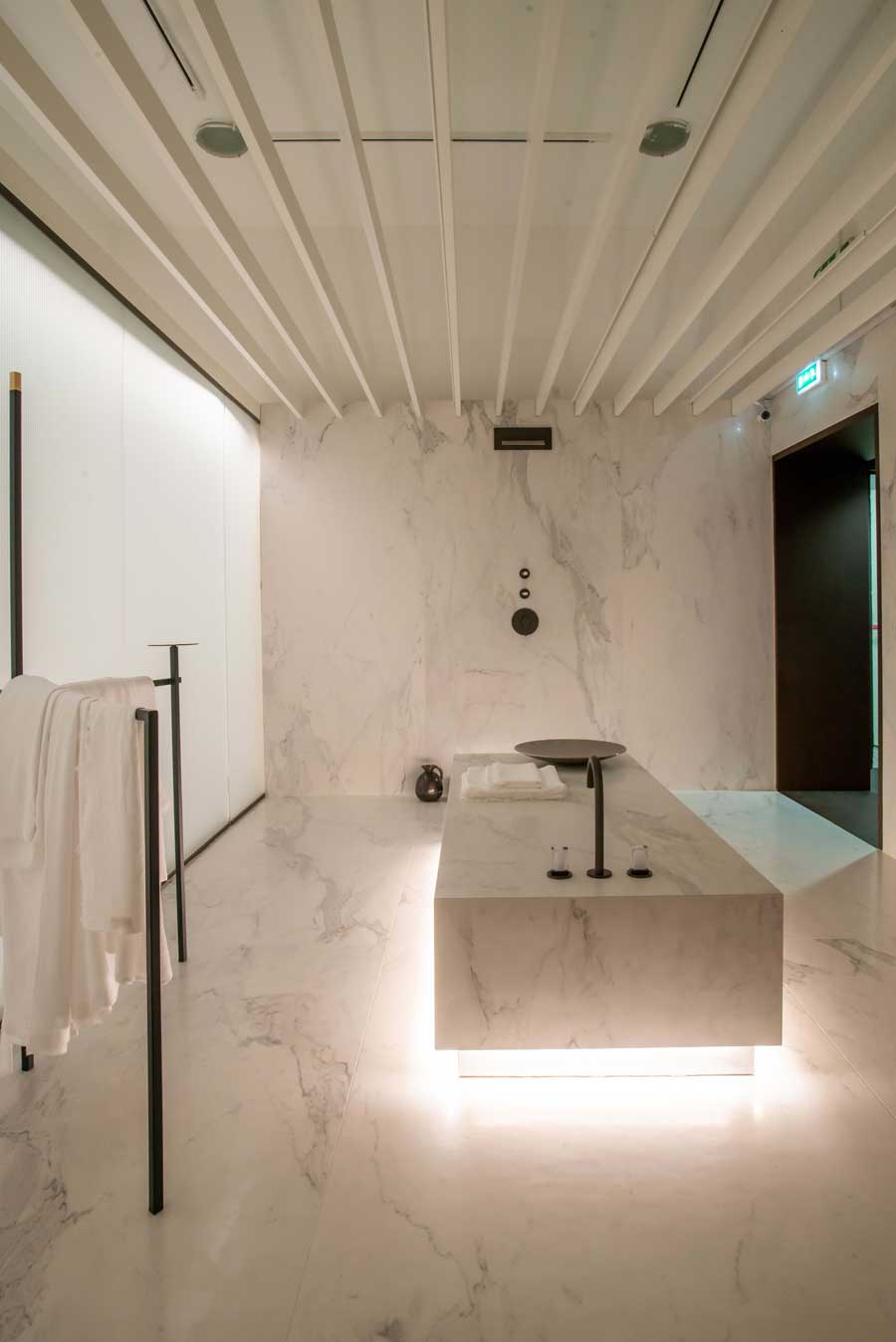 The interior of the sauna has benches running the whole length of the back wall and the shower/relaxation area is separated by a dividing glass wall with a screen made of narrow wooden slats which allows the light to filter through.
Light is a key element of the project. The ceiling, with wooden beams and lights along the perimeter, generates a feeling of great lightness, creating an almost pergola effect. Similarly, the LED lighting along the benches defines the geometry of the elements with its light.
The Hammam, with its pure, clean lines, has a footprint of 18 sqm and is fitted with one of Effe's latest-generation steam generators which lead the field in steam generation for large spaces. In the centre is a seat with a spring – a refreshing source of water – which invites bathers to relax and enjoy the sensory experience of the steam bath. Grès porcelain slabs by FLORIM with a marble finish cover the entire interior and seat. Once again, light and transparency play a key role. The ceiling, with its aluminium beams, provides lighting from above and the LED lights recessed in the base of the seat create a truly stunning effect. The transparent glass wall has been produced using the exclusive fluted technique and flush LED lighting accentuates the slightly wavy surface.
Press Info:
Studio Viterbo
www.internimagazine.it