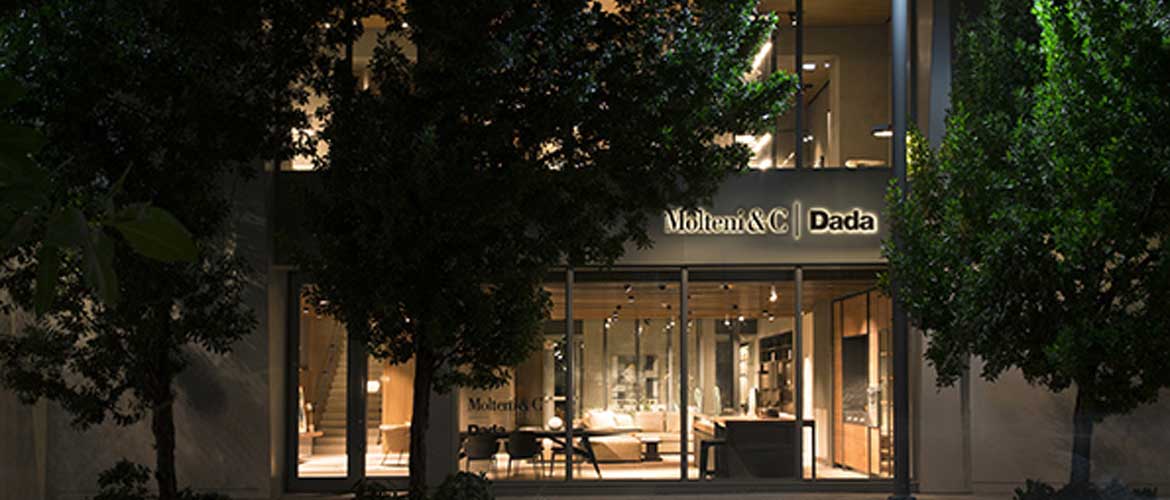 The Molteni Group opens the doors to its renovated Molteni&C|Dada Flagship Store in Miami, thereby consolidating the partnership with Solesdi, already present in Central America with the Molteni&C|Dada Flagship Store in Mexico City. Located in the vibrant Miami Design District, the space, designed by acclaimed Belgian architect and Molteni&C|Dada's Creative Director Vincent Van Duysen, measures over 6500 square feet with 3 wide windows and it is played out over 2 levels.
The concept defining the Flagship symbolizes a life marked by Italian flair with the intimacy of a private home. The whole interior design range is represented to enable visitors to satisfy whatever homeinterior requirements they may have, from kitchens to dining rooms, living rooms to bedrooms. The flooring is enhanced by the soft colour of the travertine stone, giving the spaces throughout the store a natural light. Suspended wooden ceilings alternate throughout. The ambience is a triumphant representation of Van Duysen's architectural concept.
The new high-impact scenic space enhances the products of the collections designed by Vincent Van Duysen, Rodolfo Dordoni, Ron Gilad and Patricia Urquiola, amongst others. The ground floor features Molteni Group's icon pieces, effectively showcased in each setting. Sophisticated living areas are furnished with handsome Paul, Albert and Turner sofas, along with Pass-word and 505 living systems. The night spaces feature a series of Ribbon and Anton beds with an elegant Master Dressing wardrobe, Molteni&C's exclusive walk-in wardrobe design.
Design offerings alternate between Gio Ponti creations and a curated selection of the Molteni Group's Heritage Collection.
For the different kitchen areas, Dada reserved scenographic VVD kitchen, Hi-Line6 Frame Door and Prime kitchens, together with Filigree table, Woody and Barbican
chairs.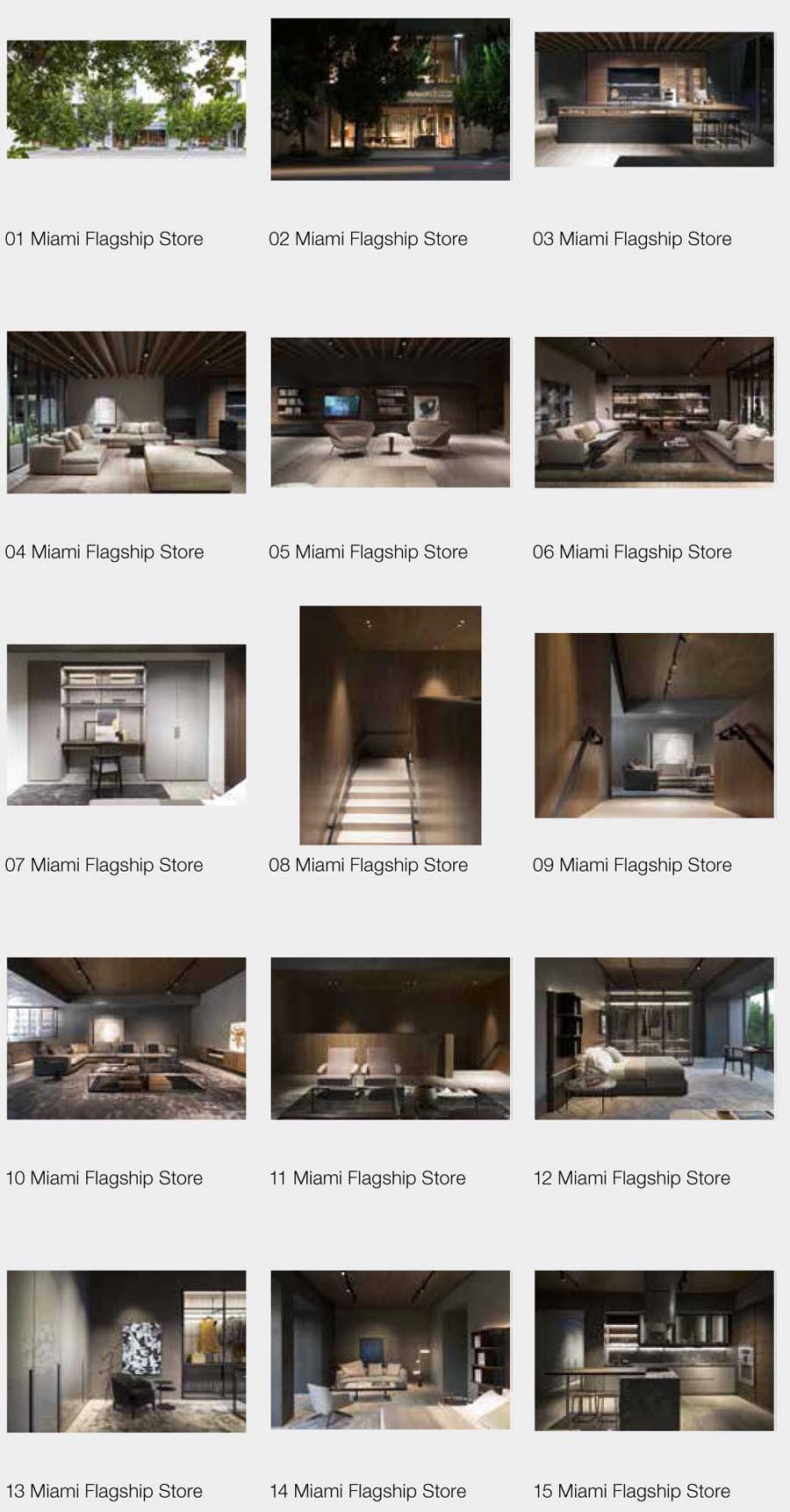 Molteni&C|Dada Products
ALBERT design by Vincent Van Duysen
The seating system reflects the Molteni&C corporate profile, based on two key words: tradition and technology, linked by the leitmotif of perfectly clean lines. A flexible and dynamic seating system, rich in content, which shows how research and craftsmanship have always been part and parcel of the company's DNA. Albert is a brave step forward in the search for a seating system conceived as a flexible and disarticulatable structure, that can reshape the new complexity of modern living, marked by extreme planning.

PAUL design by Vincent Van Duysen
Paul is a set of elegantly proportioned sofas with reassuring lines, elements that emphasize Vincent Van Duysen's expressive rationality. The project includes linear sofas, angular compositions, chaises longues and islands, all with a single seat cushion.

BARBICAN design by Rodolfo Dordoni
The Barbican Centre is an architectural complex designed by Chamberlin and Powell&Bon at the end of the 1950s. A center hosting a variety of the world's visual, theatrical and musical arts that perfectly reflects Rodolfo Dordoni's project for Molteni&C. A series of comfortable chairs suitable for all sorts of settings.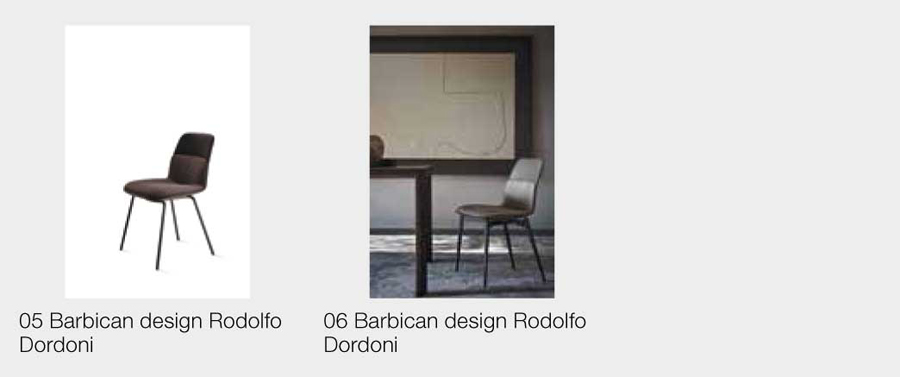 CHELSEA design by Rodolfo Dordoni
The Chelsea chair summarises the essence of contemporary design and the memory of tradition. It is an ideal tendency towards the future which brings with it the knowledge. Chelsea is a series of chairs in varied styles, particularly well-suited to dining rooms where the pleasure of good food is accompanied by the pleasure of cultured, cosmopolitan conversation. With a frame of simple design but elegant proportions, it comes in three backrest options: two with arms, one without.

DIAMOND design by Patricia Urquiola
A range of tables with folded legs like a delicate origami. An element skillfully assembled by a light folded aluminum foil and an internal part composed by aluminum and polyurethane inserts to give stability.
The square or rectangular tops are available in glass, the support structure is either shiny aluminum or glossy lacquered. Diamond won the Red dot design award Best of the best in 2005.
FILIGREE design by Jean Nouvel
Filigree is a range of fixed size and extension tables. Glossy and matt diecast aluminium frames underpin tops enhanced by a wide range of finishes.
The technology used in the discreet Filigree main element allows an extendable table with an invisible lateral telescopic system. The entire top is without cuts, and extends to double its size. It allows the maximum use of space thanks to the outer legs, minimum thickness of the tops, and above all its mechanism containment structure and extensions which are only 38 mm internal thickness.

GRID design by Vincent Van Duysen
The particular feature of modular systems is the ease with which a few basic elements can be combined to provide valid and seamless furnishing solutions. Grid, designed by Vincent Van Duysen, fully satisfies this criterion of infinite modularity. Grid is a new research chapter in what are known today as modular wall-systems. Research into the evolution of domestic space, also thanks to the presence of electronic devices that extend the perception of space.
MASTER DRESSING design by Vincent Van Duysen
Vincent Van Duysen has designed Master Dressing, a walk-in wardrobe system that completes the wide range of nightime systems offered by Molteni&C. Master Dressing perfectly complements the Gliss Master wardrobes thanks to the use of coordinated internal fittings and aesthetic finishes, thereby providing functional and impactful walkin closets.
RIBBON design by Vincent Van Duysen
Ribbon is a fabulously soft textile bed with a young, modern design, using natural materials.
Ribbon, by Vincent Van Duysen, marks the Flemish designer's debut with Molteni&C. The textile or leather upholstery hooks up to a ribbon, with leather details, that runs all the way round the headboard and bed and serves both a structural and an aesthetic purpose.

ANTON design by Vincent Van Duysen
A bed that perfectly expresses Vincent Van Duysen's design philosophy, where essentiality and carefully chosen materials achieve a perfect synthesis. Delicate but clean lines for a harmonious aesthetic balance, the result of reducing anything superfluous.

Gio Ponti collection
The Gio Ponti collection, which Molteni&C dedicates to the great designer, was formed in 2012 in partnership with the Gio Ponti Archives and under the artistic direction of Studio Cerri & Associati. A tribute to one of the most complex architects of the 20th century and an opportunity to exchange views with history, thereby renewing attention for the leading figures of Italian and international architecture. In a career spanning more than fifty years, Gio Ponti (Milan, 1891-1979) founded Domus magazine, lectured at Milan's Politecnico University, painted and designed everything – buildings, interiors, furniture, objects and furnishings for his homes.
Designs which, without Molteni&C's intervention, would have been lost, depriving us forever of a legacy that belongs to Italy's cultural heritage.
VVD design Vincent Van Duysen
Vincent Van Duysen reinterprets the recessed handle detail in a modern and sophisticated key, working on the contrast between the slim side and end units and the considerable thickness of the worktops, which fit in, interrupting the linearity of the worktop, with stone sink bowls. The alternating materials and the interplay of solids and voids give rise to a dynamic and at once sophisticated kitchen. The kitchen gains a new architectural look, also thanks to the elegant ceiling units and slim, transparent glass cupboards with soft-closing micro-hinges.

Pres Info:
Raffaella Casati | Molteni & C | Dada
www.molteni.it