At the 2022 Salone del Mobile in Milan, Margraf is presenting an unprecedented take on marble in the bathroom in partnership with the French architect Jean-Michel Wilmotte.
A new collection of washbasins and shower trays highlights the sophisticated qualities of exclusive Margraf Fior di Pesco Carnico® marble, which can only be found in a quarry in Forni Avoltri (near Udine) and features distinctive shades that range from grey to pink and from white to ivory. There is an enticing, almost architectural feel to the creations by Wilmotte Design Studio. Marble is the perfect choice for high-end bathrooms thanks to its sensuality and stability, not to mention the way it reacts to water.
The idea behind the project is to create a collection of contemporary products by pulling apart the materials to get a degree of irregularity that highlights the contrast between the rough appearance and uneven, always varying shapes of natural stone and the precise cuts of metal, in a finely balanced blend of natural and man-made elements.
The new bathroom collection that has been designed for Margraf perfectly combines the Vicenza-based company's unparalleled production and processing capabilities with Wilmotte's design experience and unmistakable style.
The collection contains two innovative selections of products: Gradina and Herma. The former (Gradina) is inspired by an old sculpting tool that is used like a chisel to rough-hew marble. It has a serrated edge that levels off uneven sections and marks out the shapes of works. There are three items in the collection: a double unit with two oval basins, a single basin with a circular shape, and a square shower tray with a circular inner section.
The latter selection (Herma) is inspired by a piece of music by the renowned Greek composer, engineer and architect Iannis Xenakis (who became a naturalized citizen of France). Jean-Michel Wilmotte was behind the exhibition design for a Iannis Xenakis show that was recently opened at the Grand Palais Éphémère in Paris. The collection contains a double basin, a single basin and a shower tray. They have very square shapes, with rectangular Nero Marquinia marble inserts.
The basins in both collections are supported by black metal bases with straight lines that emphasize the minimalist exactitude and make the two double basins seem like tables, in a fresh take on well-being.
The design of the new bathroom collection showcases the manufacturing capabilities of futuristic CNC machinery and cutting-edge robots, as well as the bespoke skills of the Margraf Innovation Lab. There is an architectural appeal to the perfect geometric forms created through a slow, precise process of cutting and honing natural stone.
Technical Characteristics
Each item is made by processing solid blocks of Fior di Pesco Carnico. In particular, the double basins are made from single pieces of marble that are more than two metres long.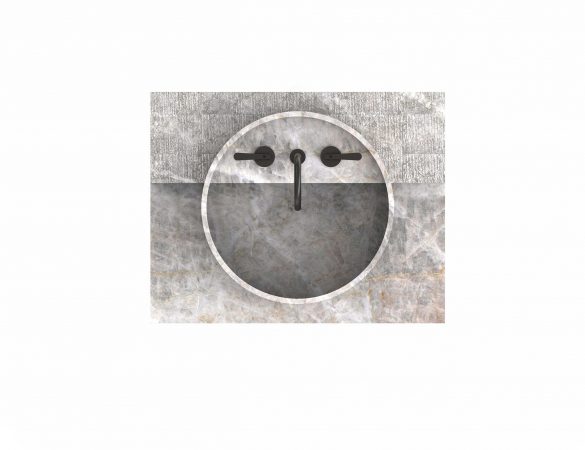 Gradina
Marble: Fior di Pesco Carnico.
Double basin: 212 x 66 cm, thickness: 15 cm.
Single basin: 84 x 66 cm, thickness: 15 cm.
Shower tray: 115 x 115 cm, thickness: 6 cm.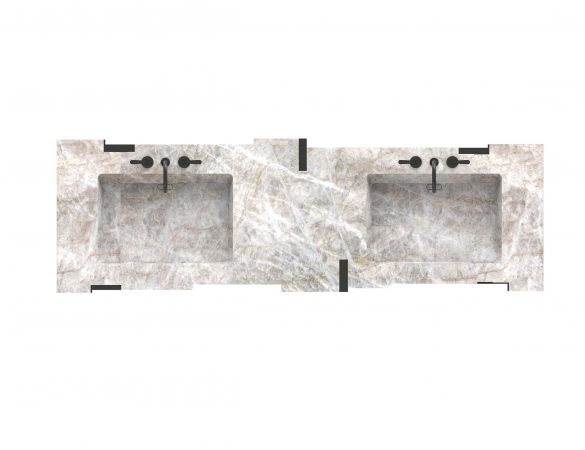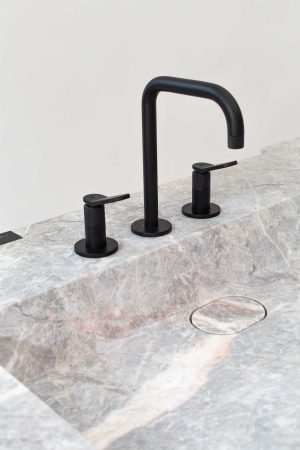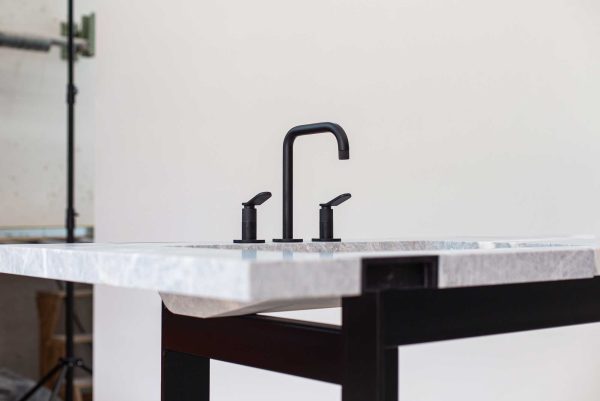 Herma
Marble: Fior di Pesco Carnico.
Double basin: 244 x 76.9 cm, thickness: 11 cm.
Single basin: 110 x 76.9 cm, thickness: 11 cm.
Shower tray: 146.7 x 119.8 cm, thickness: 5 cm.
The bathroom collection designed by Jean-Michel Wilmotte for Margraf will be presented at the Salone del Mobile 2022 with taps and fittings kindly provided by Cristina Rubinetterie. The specific range on display will be: East Side, angelettiruzza design, CRISTINA Rubinetterie.
About Margraf
Margraf's story (former Industria Marmi Vicentini) started in Chiampo (province of Vicenza) in 1906. Since its early start, the company devoted to accurate research work and development of new technologies, working in tight collaboration with famous international architects. Today, after more than a century, Margraf is a leading, world stakeholder in this field. Among many other pluses, Margraf owes its worldwide established reputation to its skilful extraction of marble and the ability to transform it into finished, polished slabs or tiny tiles and to provide a huge array of precious materials and excellent products for building construction and architecture (from the cladding of inner and external walls, to interior design items, to bathroom and kitchen decoration). On top of all this, Margraf ensures extensive environmental compliance investing any efforts to minimize any possible kind of environmental impact. This includes the use of cutting-edge technologies, the implementation of landscape recovery and energy saving practices, as well as the exploitation of renewable resources. Margraf is a perfect merging of past and present forming a first-class enterprise eagerly turned to the future.
www.facebook.com/margraf.industriamarmivicentini
Press info:
Nicolò Soranzo | GAGLIARDI & PARTNERS
www.gagliardi-partners.it