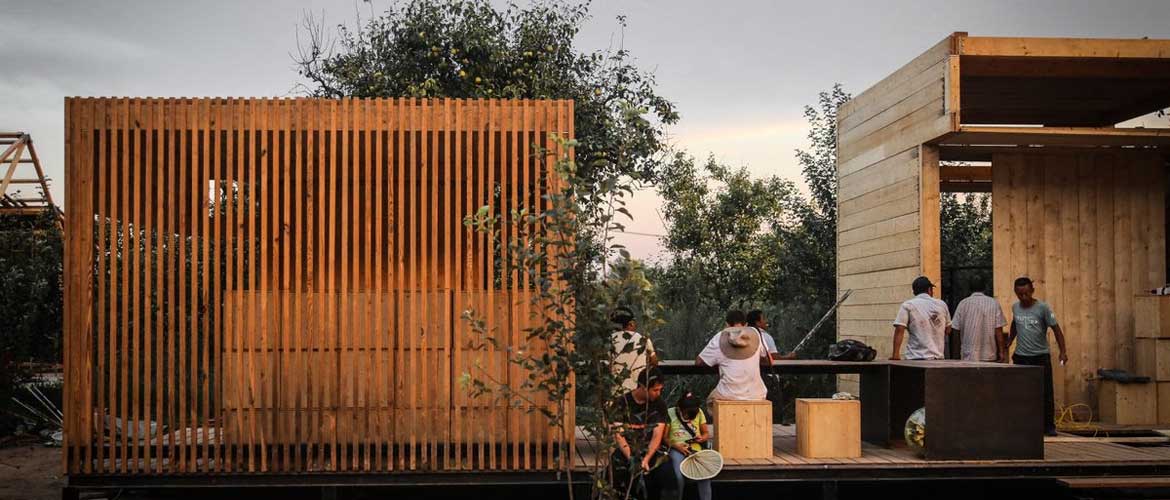 Students from 30 universities worldwide use design to revitalize a village
The 2019 UIA-CBC International Colleges and Universities Competitive Construction Workshop reached its conclusion on 18 August 2019. The workshop, co-hosted by Siyang County People's Government, CBC (China Building Centre) and the Tianjin University School of Architecture, is the first, and currently the only, competitive construction workshop in China to receive official recognition and support from the UIA.
The workshop theme was "Pear Orchard Cabins" because it took place on the site of a century-old pear orchard in Siyang County, Jiangsu Province, China. Using the "pear" as a core element, the students explored ways of improving rural infrastructure and public space, combining design and industry while maintaining the diversity of the countryside and respecting the local fruit industry.
The 15 joint teams were selected from 101 universities in 23 countries. The teams spent 18 days during the month of August revitalizing the pear orchard by building cabins and a circulation system "connecting the dots". Each team, which included students from institutions in China, Hong Kong, Macau and Taiwan as well as students from institutions located outside of these areas, designed and constructed one "cabin".
The «Pear Orchard Cabins» included a rest place, a theatre, a garbage recycling station, exhibition halls, a teahouse, and other public spaces. The project sought to utilize "negative space" in the village, to enrich quality of life for both villagers and tourists and to introduce the concept of participatory design into the village. All works were required to fit the village environment and the theme of "Pear Orchard Cabin". The key evaluation criteria were "to integrate construction into the local environment, build a work that can be used locally, reflect the logic and relationship of the building, and provide more possibilities for the environment".
The international jury, composed of renowned architects, scholars and planners Ali Rahim (USA), LV Pinjing (China), DING Wowo (China), LI Baofeng (China), Matias del Campo (Chile/Austria), TANG Hua (China), WANG Hui (China), Bouman Harris Ole (The Netherlands), LI Hu (China), PENG Lixiao (China) and YE Wenzhi (China), selected 3 teams of first prize-winners. 6 teams won Second Prizes and 6 teams received Third Prizes.
First prize (3 Teams)
•    «Wedge in Motion» by Kunming University of Science and Technology (China) & Slovak University of Technology in Bratislava (Slovakia)
•    «The Bamboo Huts» by South China University of Technology (China) & Institute for Advanced Architecture of Catalonia – IAAC (Spain)
•    «Beyond Module» by Southeast University (China) & Politecnico di Torino (Italy)
Second prize (6 Teams)
•    «Bench Theater» by Soochow University (China) & City University of Macau (Macau)
•    «Pear Orchard Garbage Recycling Station» by Beijing Forestry University (China) & Chiba University (Japan)
•    «BLOSSOM» by Tongji University (China) & Pusan National University (Korea)
•    «Stair Climbing Amphitheater» by Shandong Jianzhu University (China) & Chinese Culture University (Taiwan)
•    «Pear-spective» by China Academy of Art (China) & National Technology University of Athens (Greece)
•    «Lie Between» by Tsinghua University (China) & University of Ljubljana (Slovenia)
Third prize (6 Teams)
•    «The Tiniest Cottage» by Beijing Jiaotong University (China) & University of Cincinnati (USA)
•    «Pyrus Pyrifolia» by Central South University (China) & University of Michigan (USA)
•    «Encounters – A pear tea house on the water bank» by Xi'an University of Architecture and Technology (China) & Politecnico di Milano (Italy)
•    «The Shadow of Trees» by Hefei University of Technology (China) & Shibaura Institute of Technology (Japan)
•    «Containers for Pear Tree Growth» by Anhui Jianzhu University (China) & Hwa Hsia University of Technology (Taiwan)
•    «The Imperfect Sphere» by Tianjin University (China) & Syracuse University (USA)
For more information, visit the award website
UIA
The International Union of Architects (UIA) is an international non-governmental organisation based in Paris. Established in 1948, it is the only organisation representing architects across the globe working to unify architects, influence public policies on construction and development, and advance architecture in service to the needs of society.
Press Info
UIA
news@uia-architectes.org