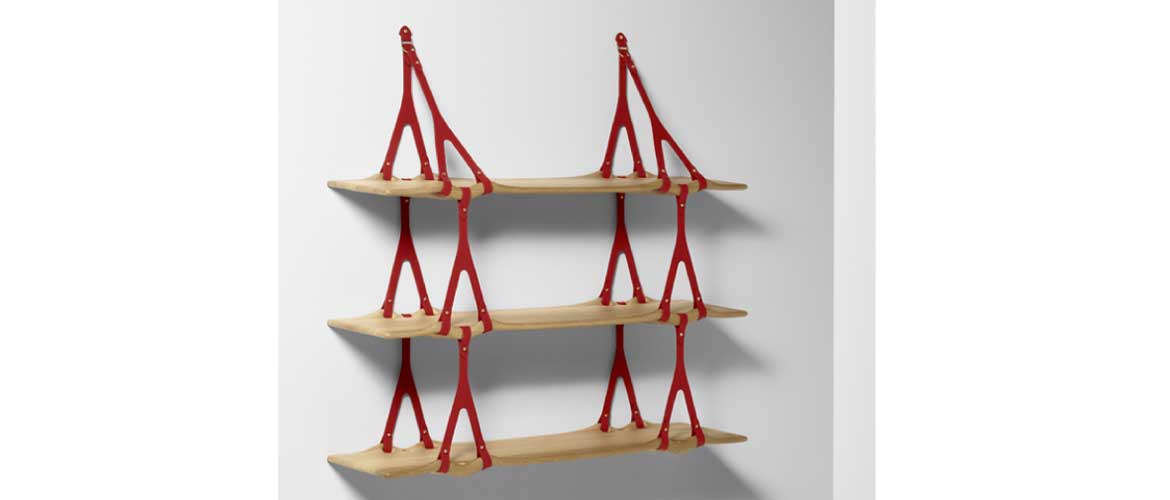 Louis Vuitton presents new American designer Andrew Kudless and his Swell Wave Shelf for the Objets Nomades collection at Design Miami 2019.
From December 4th to 8th 2019, at Design Miami/, Louis Vuitton will exclusively present the Swell Wave Shelf by Andrew Kudless, the designer's debut for the Louis Vuitton Objets Nomades collection. This new piece will be showcased alongside other Objets Nomades, presented at Design Miami/ for the first time.
Louis Vuitton Objets Nomades is an ever-expanding collection of limited-edition, collectable furniture inspired by the House's travel DNA and by reinterpretations of its essential spirit. The collection weaves together Louis Vuitton's savoir-faire and the skills of world-renowned designers to create inventive shapes, materials and products. The Louis Vuitton Objets Nomades collection now includes pieces imagined by some of the most creative designers of our times, including Patricia Urquiola, India Mahdavi, Atelier Oï, Atelier Biagetti, Barber&Osgerby, the Campana Brothers, Damien Langlois-Meurinne, Raw Edges, Zanellato/Bortotto, Marcel Wanders, Tokujin Yoshioka, Nendo, André Fu, and now Andrew Kudless.
The San Francisco-based designer's new piece features undulating, smoothly polished oak shelves – flowing forms that resemble rocks eroded over time – that are held in perfect tension by rich leather straps. Swell Wave Shelf is an elegant addition to the collection and an ode to the powerful forces and the delicate balance of the natural world.
From December 3rd to 8th at Paradise Plaza in Miami Design District, Louis Vuitton will also present an exclusive exhibition showcasing its savoir-faire. The event will be a unique opportunity to discover the Objets Nomades and explore their celebrated combination of remarkable design and intelligent functionality.
Louis Vuitton's Objets Nomades will be on show at Design Miami/ from December 4th to 8th, 2019. The exclusive savoir-faire event will be held at Paradise Plaza, 151 NE 41st Street, Miami, Florida 33137, from December 3rd to 8th, 2019. Visits by appointment only; please contact lv.events@us.louisvuitton.com.
About Louis Vuitton
Since 1854, Louis Vuitton has brought unique designs to the world, combining innovation with style, always aiming for the finest quality. Today, the House remains faithful to the spirit of its founder, Louis Vuitton, who invented a genuine "Art of Travel" through luggage, bags and accessories which were as creative as they were elegant and practical. Since then, audacity has shaped the story of Louis Vuitton. Faithful to its heritage, Louis Vuitton has opened its doors to architects, artists and designers across the years, all the while developing disciplines such as ready-to-wear, shoes, accessories, watches, jewellery and fragrance. These carefully created products are testament to Louis Vuitton's commitment to fine craftsmanship.
For more information: louisvuitton.com.
Press Info:
Coco Vivas | Blue Press Service
bluepressservice@gmail.com