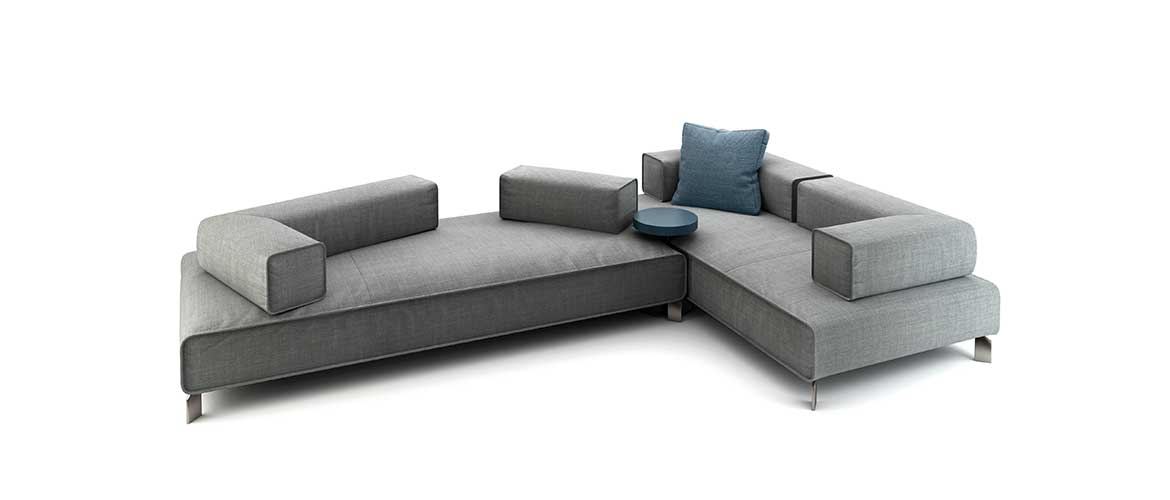 By Mauro Lipparini
The partnership between Bonaldo and Mauro Lipparini is one that stretches back many years and has seen both company and designer cast as active participants in a constant back-and-forth of interaction and ideas. In addition to producing a vast array of products, the experienced designer has in recent years designed trade show stands and showrooms for Bonaldo across the world, drawing on his extensive knowledge of the company to channel its spirit to great effect. Now, in the latest instalment in this long-running collaboration, Lipparini has created several products for Bonaldo's 2020 collection.
Lipparini's new creations for the Bonaldo 2020 collection stem from an aesthetic vision free from stylistic constraints and limitations. The designer has allowed himself to be led by his own hand in a far-reaching exploration of living spaces, something that Lipparini himself describes as "a journey of freedom of interpretation in the name of good taste". Lipparini's latest creations explore three different contemporary living environments – the living room, the dining room and the home office – and do so by envisaging products capable of interacting with one another within domestic settings and other spaces.
The common denominator between Bonaldo and Lipparini has always been their shared focus on materials. Here, in the Bonaldo 2020 collection, Lipparini combines various different materials to create sophisticated furniture solutions, with marble, metal, wood, ceramics, leather and fabric all playing a starring role.
The result is a collection that epitomises the Bonaldo Total Look, with stand-out pieces including the Curling table, the Tètra sofa, the Lupino side tables and the Gauss desk.
Below is a description of some of the products designed by Lipparini for the Bonaldo 2020 collection: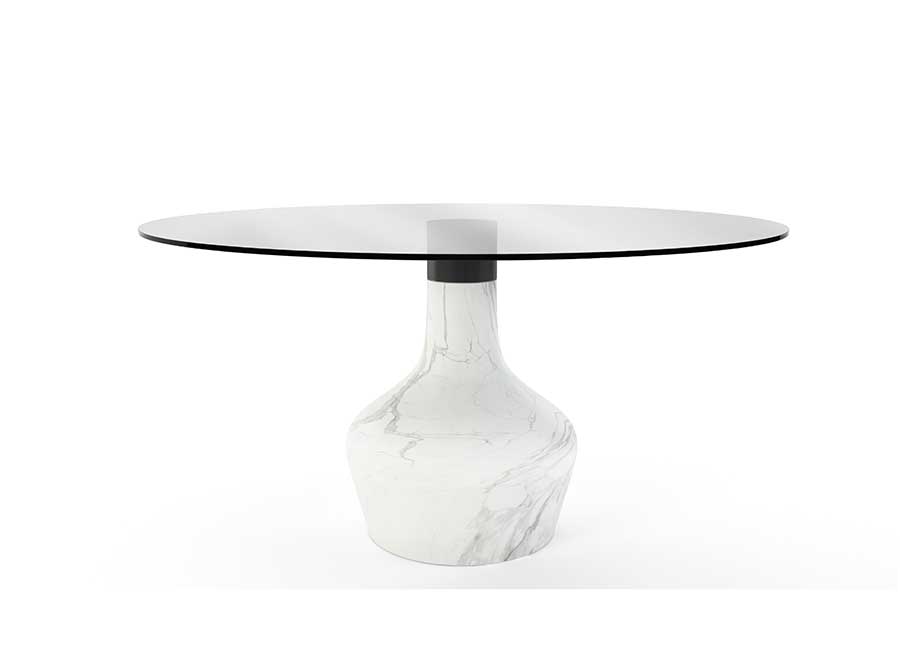 There is a delicate, clean and harmonious design to the Curling table, which leaves no room for superfluous decoration. The base is carved from a single block of Carrara or black Marquinia marble, resulting in the simplest and purest of forms. A metal cylinder sits on top of the marble base to support the table top, in ultra-clear transparent crystal, creating a truly sleek overall effect. Ultimately, Curling is defined by its instinctive, immediate design, its bold character and its imposing scenic presence.
"As Michelangelo once said, the sculpture is already inside the marble – all you need to do is remove the superfluous," says Lipparini, explaining the concept behind the new table for Bonaldo. "The idea for Curling came from visits to the Carrara marble quarries. I was inspired by these white, cubic blocks of marble."
Table top finish
Ultra-clear transparent crystal with satin border in clear matte finish
Base finish
Polished or matte Carrara marble; polished or matte black Marquinia marble
Base support
Metal with matte lead painted finish
Measurements
Round table top  140 cm;  160 cm
TÈTRA sofa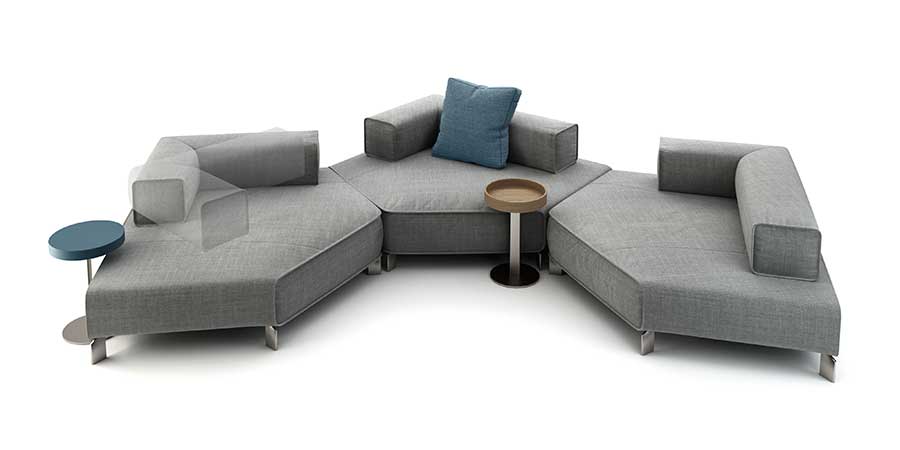 The Tètra seating system is the ultimate expression of the aesthetic spirit running through Lipparini's creations for Bonaldo, with their contemporary design and evergreen detailing. The collection of soft furniture features stand-alone pieces and rectangular, pentagonal and irregular-shaped elements which can be easily combined without physical joins, forming geometric shapes befitting the name of the collection. The backrests – with their simple shaping – are perched atop the islands, making for a sofa that feels like a celebration of freedom, movement and new interpretations of aesthetics and comfort.
Covering
Fabric; leather. Completely removable.
Padding bases
Polyurethane foam, polyester fibre; backrests: polyurethane foam and feather
Structure
Wood and wood particle board
Feet
Matte painted metal in white, charcoal grey, amaranth, brown, black, dove grey, lead, bronze, pearled gold, platinum
Modules available in various shapes and sizes:
Bases
Rectangular, irregular with five or four sides
Movable backrests
Linear or corner
GAUSS desk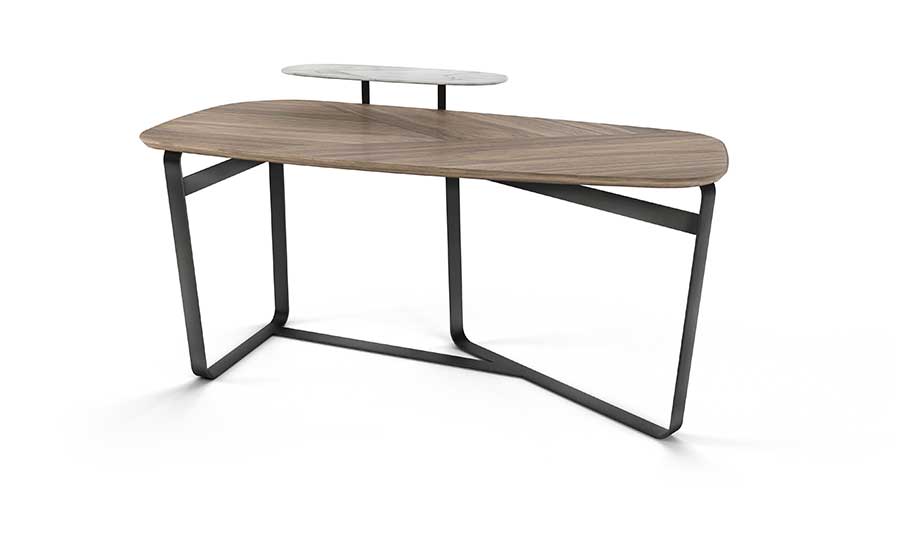 The geometric Gauss desk features a curved, fluid top with no sharp edges, much like the legs, which take on the appearance of metal rings with rounded corners. The distinguishing feature of Gauss is the raised section, which creates a second level for the desk. In addition to the main desk top in wood, Gauss also offers a practical "floating" shelf made from ceramic (optional), which is attached to the main desk via two metal bars. The other unique detail to Gauss is the shape of the legs, which stand in a dynamic, asymmetrical position, creating an irregular structure which lends a youthful, casual quality to the desk. Meanwhile, the veining in the wood of the desk top adds dynamism, increasing the aesthetic impact of Gauss.
Materials and finishes
Desk top in Canaletto walnut; shelf in ceramic; structure in painted metal (white, bronze, charcoal grey, Lead, pearled gold, platinum) or in metal with a matte brass or copper finish Dimensions
150 x 73 x h84 cm
LUPINO side tables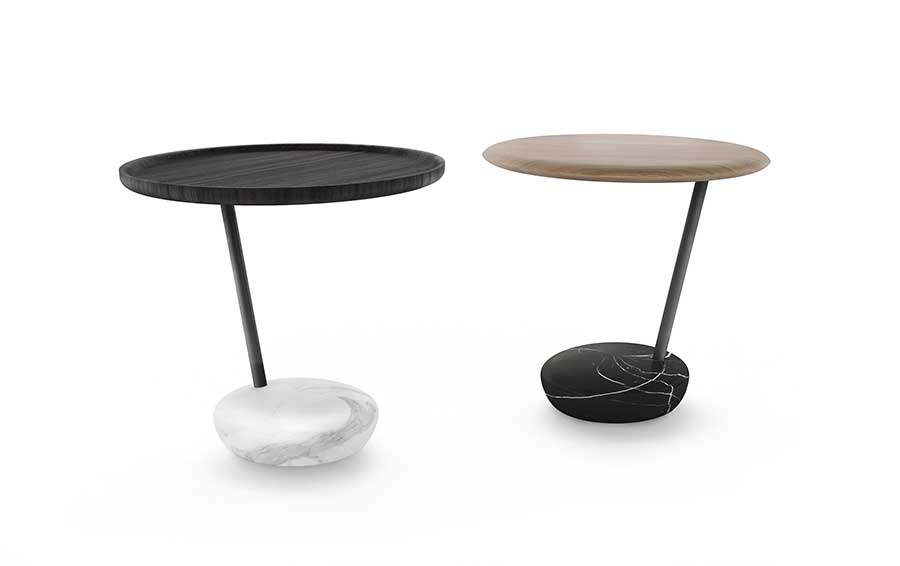 The Lupino collection of side tables is characterised by its use of a combination of different materials. The table tops are made from discs of ash, supported by a metal pipe with painted lead finish. This rests on a base in marble or cement which evokes the solid, stable shape of a rock. The lasting image is one of asymmetrical contrast between the imposing base, the sleek body and the disc that forms the table top.
Materials and finishes
table top in ash; shaft in metal with painted lead finish; base in marble (Carrara or Marquinia) or cement (white or black) Dimensions: Ø 42 x h42 cm
Bonaldo, an established brand in Italy and across the world famous for the manufacturing of designer furniture and accessories, was set up in 1936 and, in over 80 years of business, it has always retained a core that is 100% Made in Italy. A company with a keen eye on international inspirations and trends which, thanks to partnerships with designers from all over the world, produces internationally acclaimed pieces of furniture. An important step in the brand's history is the launch of the Lighting Collection, which is part of the project of «Total Look» with which Bonaldo proposes sophisticated coordinated atmospheres for settings that share its stylistic flair. Passion, research and a wide collection ranging from the most modern products to the most sophisticated and elegant creations, thus offering the perfect solution for all furnishing requirements. www.bonaldo.it
Press info:
ERGO
info@ergo-online.it