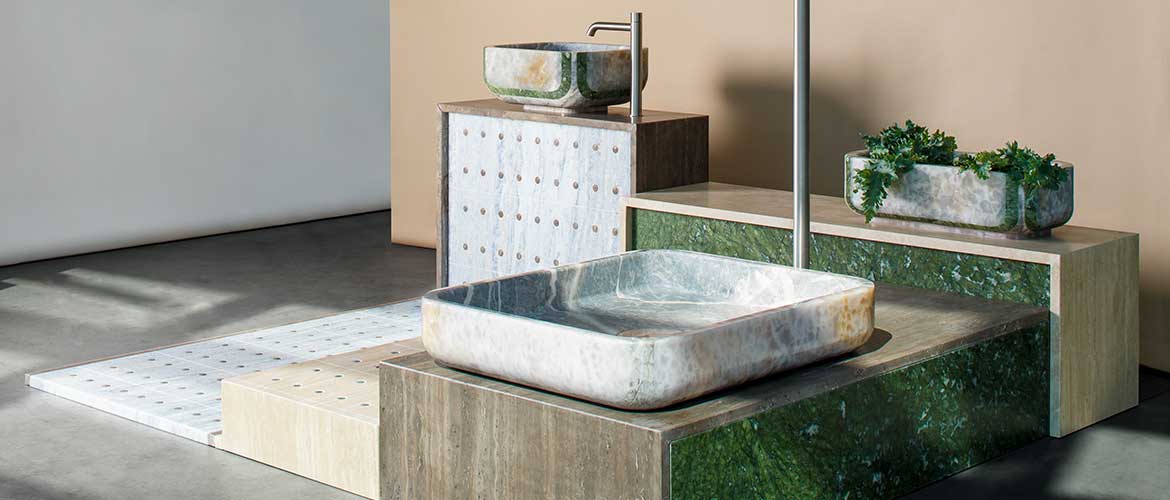 In connection with the 55th edition of Marmomac, the studio curated the design of the company's booth, and presented the Rèpere project for the "In our time" exhibition in collaboration with Margraf.
Repère
"The project I conceived for the 'In Our Time' exhibition, designed in collaboration with Margraf, lies in a hybrid interior-exterior space, for self-care, a place to take your time and experiencing direct contact with stones and water."
If the lithic material brings time into its dimension, the project becomes representative of the time of doing, the time needed to work a precious material, with its infinite facets. A sort of small stone garden with steps, with a combination of travertine, Azul calcite and jade green, a game of colors and finishes that reminds us of Scarpa's spaces. Functional objects, from the Geode collection, such as sculptures, are placed on the steps: a sink, a planter and a shower tray. The volumes arise from the combination of layers of different marbles, Carnian peach blossom, jade green and pink onyx, processed as a single block of material, which brings to light the different layers it is composed of, in the concavity of the object.
Repère is also the name of the wall and floor covering designed through marble studs placed on slight concavities of the marble slab generates a motif that draws on Canova's technique of duplicating casts through a grid of small nails. A contemporary concept, achieved thanks to advanced processing techniques and the centennial experience of Margraf, who wants to recount the story of marble and its potential.
Thanks to Cristina Rubinetterie.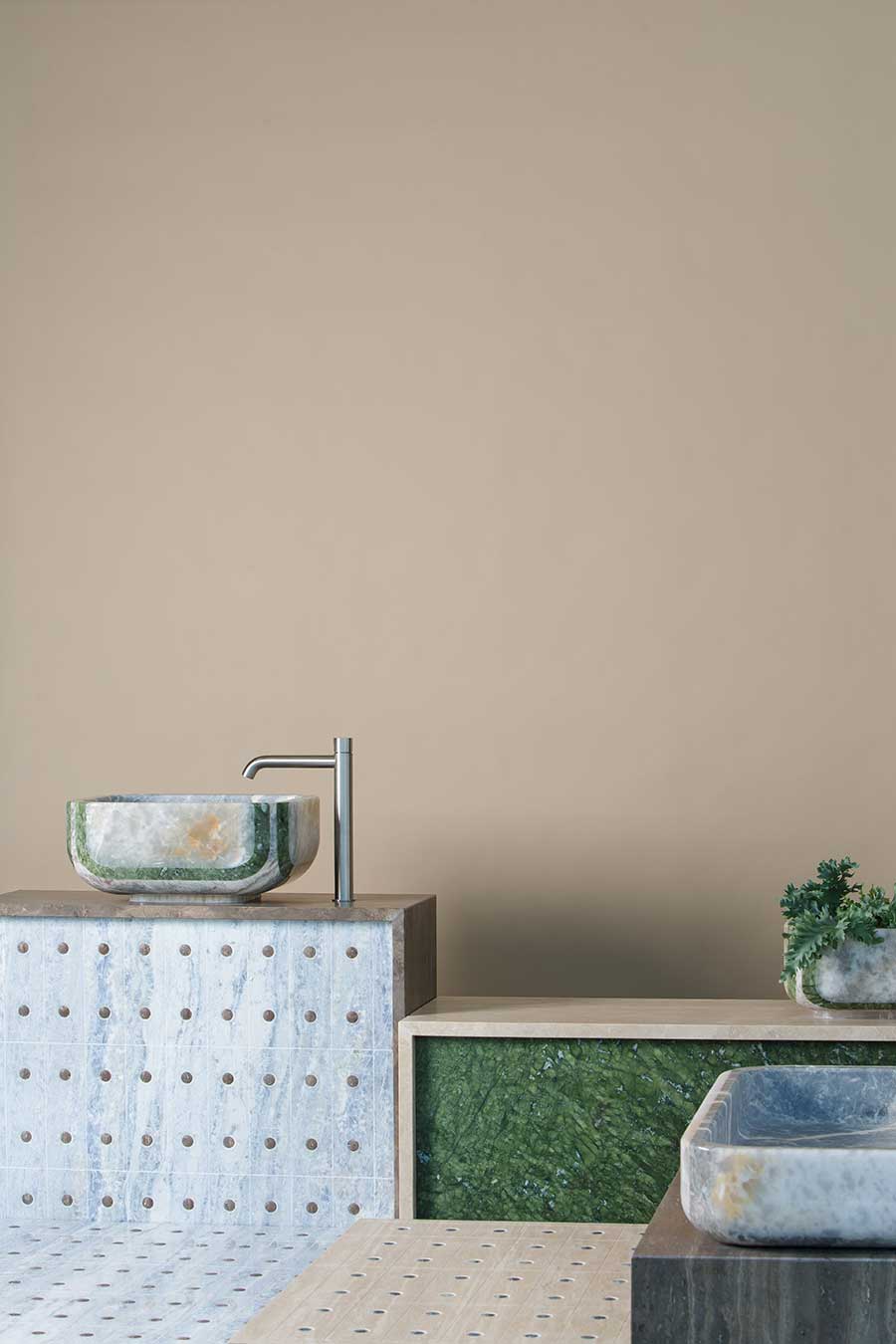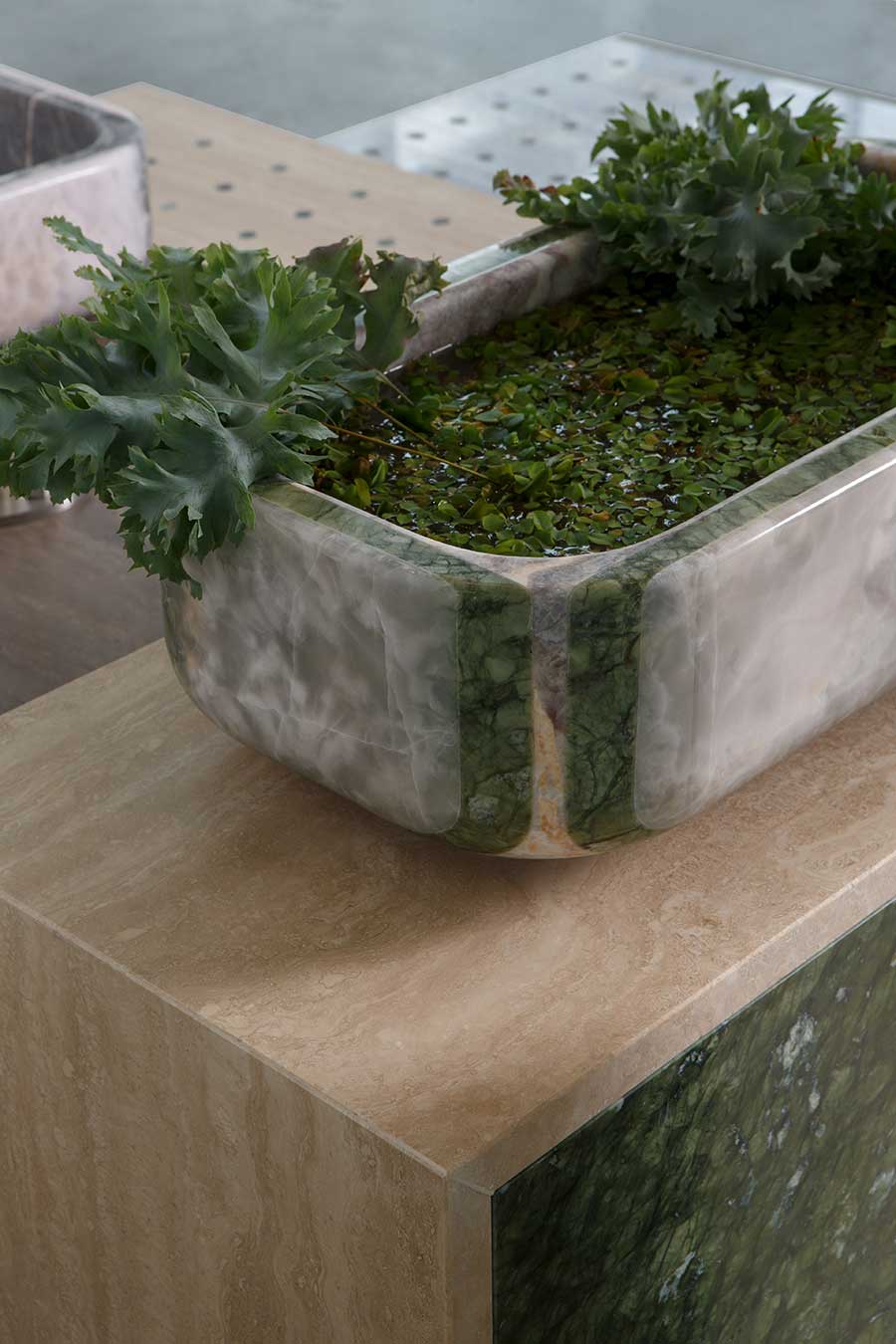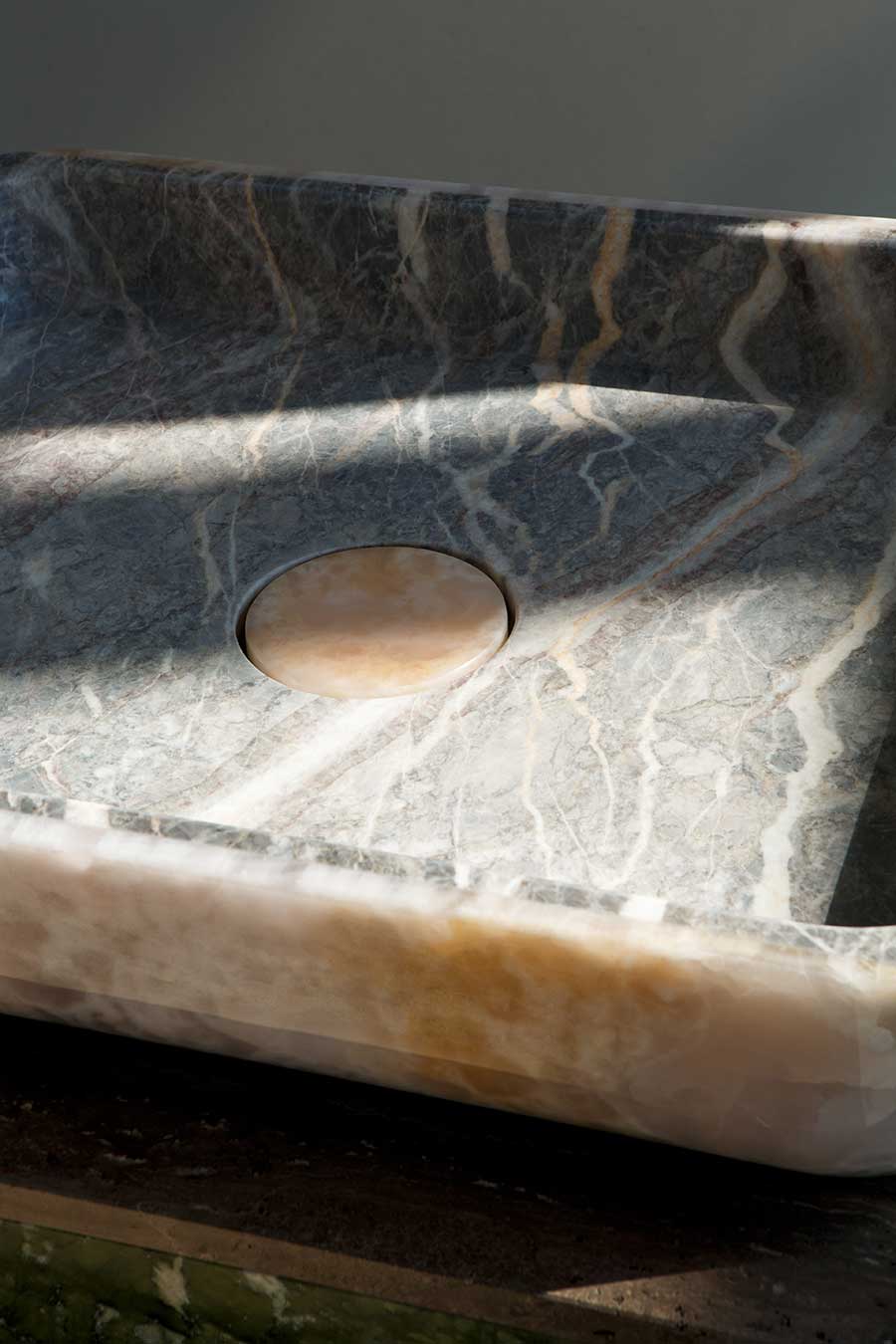 Geode Collection.
Company's booth
Margraf is constantly carrying out research into the processing and presentation of stone materials, as it strives to create highly exclusive designer items and products. With this in mind, the Vicenza-based company has embarked on a new partnership with Cristina Celestino.
The stand aims to bring out the best of marble and stone as age-old construction materials. Thanks to the focus on finishes, hues and full and empty spaces in the design, they come together to form a colourful, breathtaking stone garden.The display has been deliberately created to enable people to both see and walk through it. Combining indoor and outdoor features, it has spaces that are outlined by panels, platforms, steps and tubs, which are complemented by the colours and tactile qualities of the marble.
Careful consideration of the balance between the colours and the textures helps to highlight the wonders of the marble from Margraf's quarries, such as Arancio di Selva and Fior di Pesco Carnico. The company has the only existing quarry in the world for the latter. A number of different finishes and surface processing techniques reveals the versatility of the materials and the variety of veins and colours produced by nature. A starring role in the stand goes to the 3D coverings in the new Fluctus collection developed by the Margraf Innovation Lab. It is inspired by the movement of waves in water and the impact that they have on the seabed. For the Margraf stand, Cristina Celestino chose Crema Nuova and Fior di Pesco Carnico marble with Egeo, Ionio and Mediterraneo textures.
The Repère wall and floor covering, designed by Cristina Celestino, is made with marble studs on small dips in a slab of marble. It produces a pattern based on Canova's technique of copying casts with the assistance of a grid of small nails, is present in the booth on Cipollino Verde wall, in two different variations.
On the first side platform there are distinctive tables with asymmetrical tops, like oversize terrazzo tiles. Their effect is heightened by marble with strong colours such as Cipollino Rosso and Radika. Two-sided panels juxtapose Cipollino Verde textures and graphic effects produced by eye-catching veined marbles such as Azul Macaubas, Zebrato and Ombra di Caravaggio. A light, pleated canopy floats over the platform, whose outline is marked on the ground by Verde Alpi marble tubs and steps. The edge of the space is traced out lengthwise by two parallel panels with a service area between them. Outside are platforms and standing surfaces on a range of levels.The long walls provide the scope for a playful blend of textures and patterns that showcase the fine properties of the marble thanks to Margraf's cutting-edge processing techniques and more than 100 years of experience. Backgrounds with a variety of textures, honed slabs and 3D patterns are alternated with slender vertical strips of onyx.
Veined and contrasting types of marble have been used in conjunction with Onice Verde and Onice Rosa marble, with crystalline pastel colours and polished finishes. The platforms underline the material properties of Travertino Noce and Travertino Romano Classico, while the lower standing surfaces and tubs are made from Verde Alpi with a polished or cleft finish.
Thanks to Billiani, Pianca.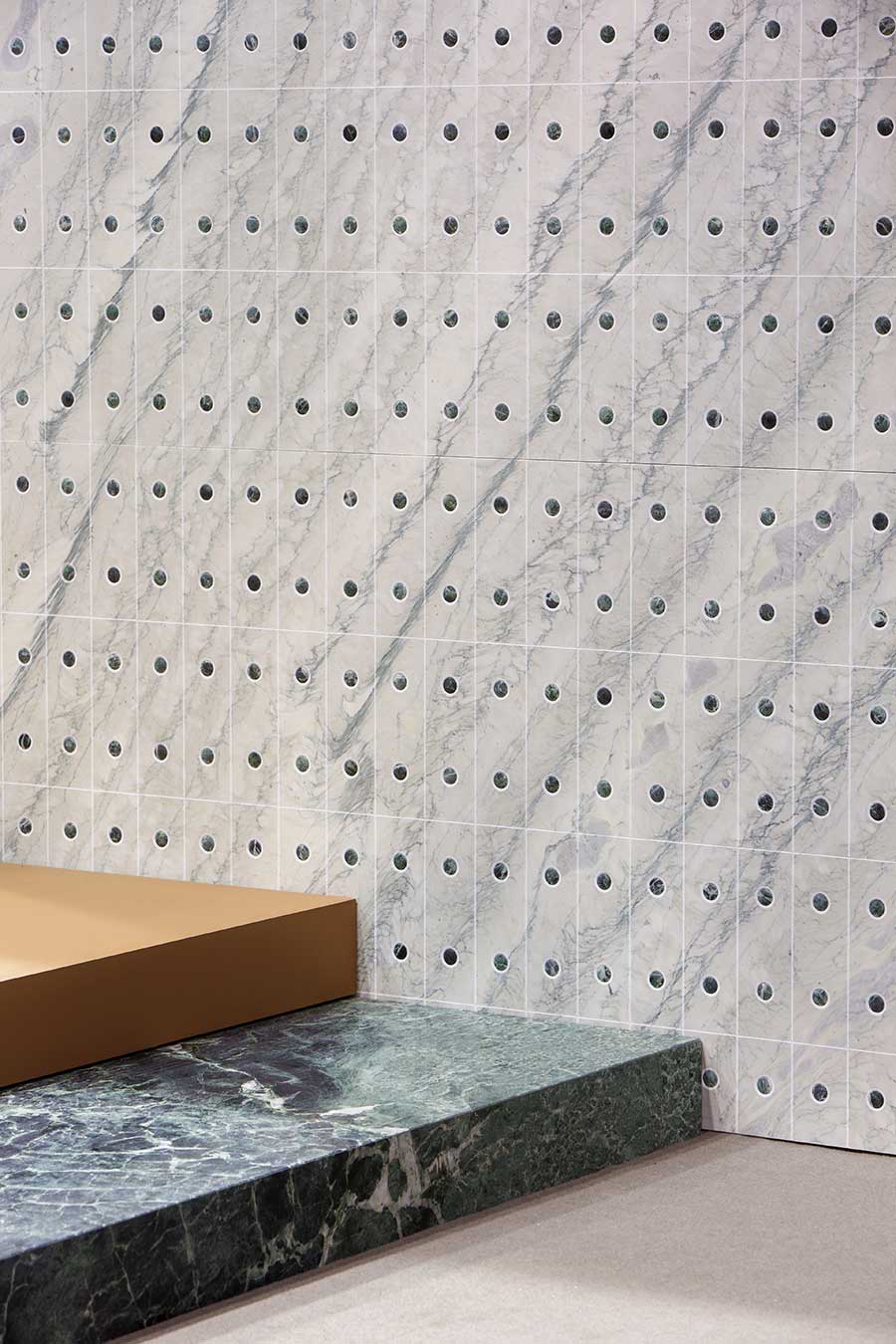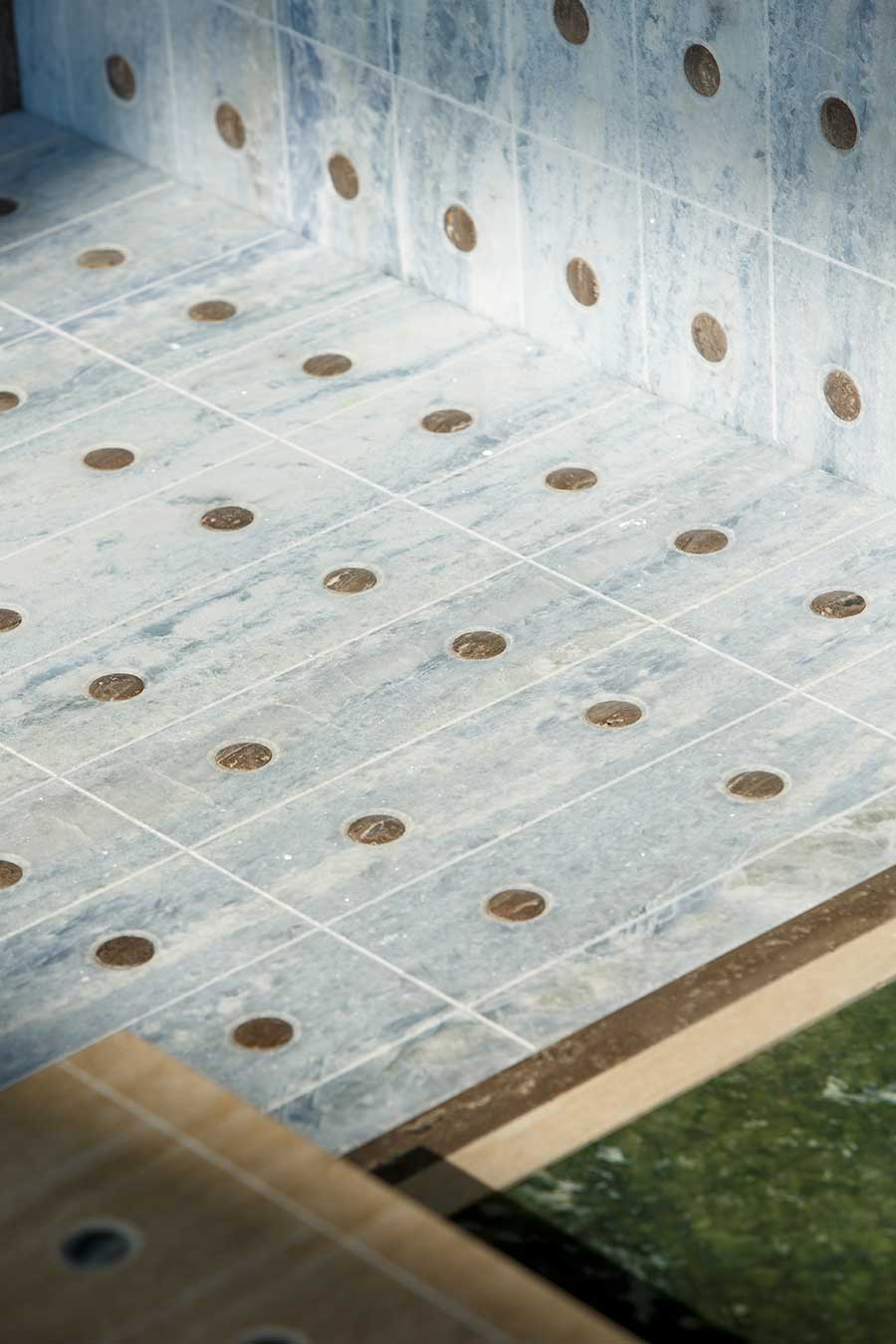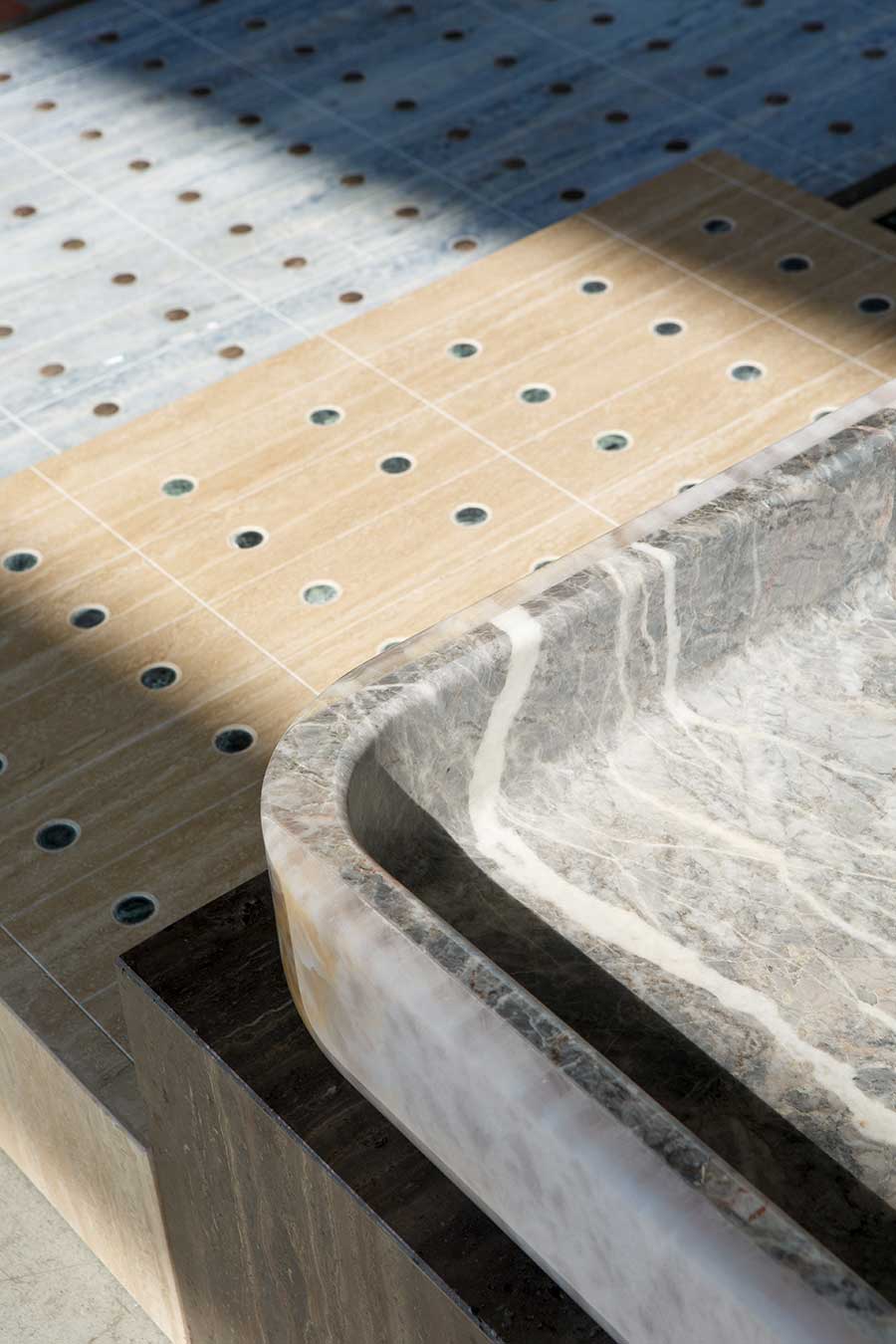 Repäre Surface.
New Products designed by Cristina Celestino.
Geode Collection: a sink, a shower tray and a planter – dimension and colours customizable.
Repère: wallcovering and flooring – customizable.
Cristina Celestino
Cristina Celestino was born in 1980 in Pordenone. In 2005, after graduating from the School of Architecture at IUAV University of Venice, she worked with prestigious design studios, focusing on interior architecture and design. In 2009 she moved to Milan, founding two years later her brand Attico Design. In 2013 she opened her own design studio. As a designer and architect, Cristina Celestino creates exclusive projects for private clients and companies. Her work also extends to creative direction for companies, and the design of interiors and displays. Cristina has received many international prizes and honours.
More information www.cristinacelestino.com
Margraf
Margraf's story (former Industria Marmi Vicentini) started in Chiampo (province of Vicenza) in 1906. Since its early start, the company devoted to accurate research work and development of new technologies, working in tight collaboration with famous international architects. Today, after more than a century, Margraf is a leading, world stakeholder in this field. Among many other pluses, Margraf owes its worldwide established reputation to its skilful extraction of marble and the ability to transform it into finished, polished slabs or tiny tiles and to provide a huge array of precious materials and excellent products for building construction and architecture (from the cladding of inner and external walls, to interior design items, to bathroom and kitchen decoration). On top of all this, Margraf ensures extensive environmental compliance investing any efforts to minimize any possible kind of environmental impact. This includes the use of cutting-edge technologies, the implementation of landscape recovery and energy saving practices, as well as the exploitation of renewable resources. Margraf is a perfect merging of past and present forming a first-class enterprise eagerly turned to the future.
More information www.margraf.it
Press info:
Nicolò Soranzo | GAGLIARDI & PARTNERS
margraf.it