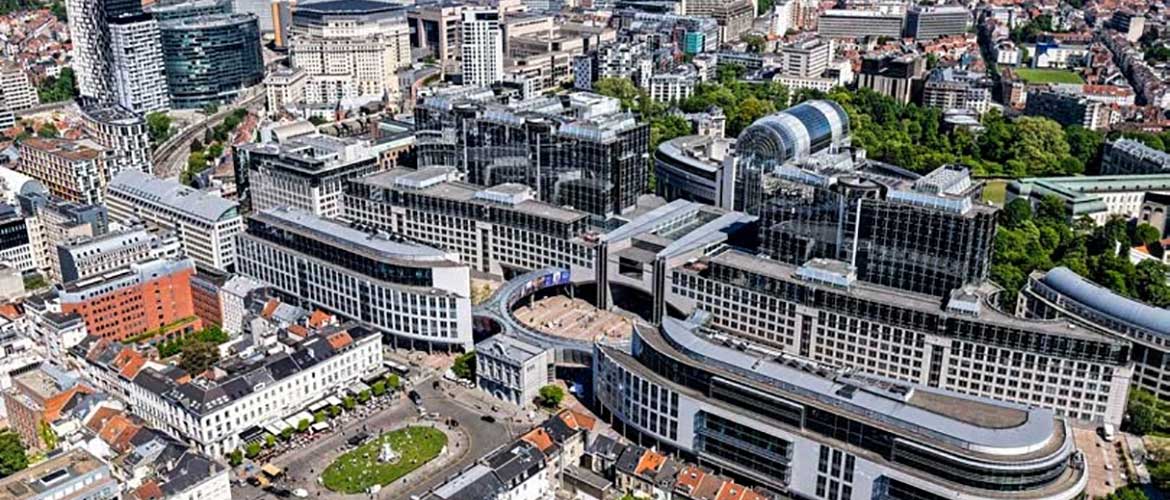 The European Parliament has announced the results of the international design competition for the renewal of its plenary building (SPAAK), located in a complex in the centre of Brussels (Belgium). The open pre-qualification procedure for the selection of competitors among candidates was launched on 26 May 2020. It was endorsed by the International Union of Architects (UIA). 
The competition sought a sustainable approach with a strong emphasis on «operability, maintainability, flexibility and adaptability". The new European Parliament was envisaged as incorporating "best durability and sustainability practices with a considered balance between simplicity and thoughtful technology."
Following the pre-qualification procedure, 15 selected candidates were invited to submit their design proposals, which were then evaluated by an international jury during the first semester of 2021 in accordance with the competition timetable.
The announcement of the results experienced a significant delay owing to various issues faced by the competition organiser that were both internal and external to the European Parliament.
The projects will be presented during an exhibition in Brussels which is scheduled for September 2022.
The jury allocated following prizes:
1st prize: JDS Architects (Denmark).
Coldefy (France) | NL Architects (Netherlands) | Carlo Ratti Associati (Italy) | ENSAMBLE STUDIO (Spain) |UTIL cvba (Belgium) | Ramboll (Denmark).
2nd prize: JABORNEGG & PALFFY Generalplaner ZT GmbH (Austria).
KUEHN MALVEZZI (Germany) | AXIS Ingenieurleistungen ZT GmbH (Austria).
3rd prize: MOREAU KUSUNOKI (France).
Dethier Architectures (Belgium) | sbp france (France) | ME Engineers Ltd (United Kingdom).
4th prize: BELVEDERE ARCHITECTURE (France).
Ove Arup & Partners International Ltd (United Kingdom).
5th prize: A2M (Belgium).
VK ENGINEERING (Belgium) | C.F. Møller Architects (Denmark).
Other prequalified participants (alphabetical order)
Baumschlager Eberle Architekten (Liechtenstein).
Bureau Bouwtechniek (Belgium) | Macobo-Stabo (Belgium).
Cobe A/S (Denmark).
Lundgaard & Tranberg Arkitekter A/S (Denamrk) | Steensen Varming (Denmark) | Tyréns AB (Sweden).
Dominique Perrault Architecte (France).
Ney & Partners – T6 S.à r.l. (Luxembourg) | Jean-Paul LAMOUREUX (France) | HL-PP Consult International Ingenieurgesellschaft mbH (Germany) | URBAN ECO SCOP (France) | DDS+ (Belgium) | Arcora (France) | Gaëlle Lauriot-Prévost (France) | SORANE SA (Switzerland).
Helin & Co Architects (Finland).
Sitowise Oy (Finland) | LPR-architects (Finland).
KAAN Architecten (Netherlands).
DGMR Bouw B.V. (Netherlands) | SVR-ARCHITECTS nv (Belgium) | Werner Sobek Frankfurt (Germany).
Neutelings Riedijk Architecten B.V. (Netherlands).
NEY & Partners WOW bvba (Belgium) | BSEG (Belgium).
Office for Metropolitan Architecture (O.M.A.) Stedebouw B.V. (Netherlands).
studiebureau r. boydens nv (Belgium) | Ney & Partners BXL nv (Belgium).
Renzo Piano Building Workshop (France).
Happold Ingenieurbüro GmbH (Germany).
Shigeru Ban Architects (Japan).
Jean de Gastines Architectes (France) | Ove Arup and Partners Japan Ltd (Japan).
Snøhetta Oslo AS (Norway).
HL-Beratungs-u. Beteiligungs Gmbh (Germany) | BURO II & ARCHI+I (Belgium) | Bollinger + Grohmann Ingeniører AS (Norway) | SuReal (Belgium).
UIA
Is an international non-governmental organisation based in Paris. Established in 1948, it is the only organisation representing architects across the globe working to unify architects, influence public policies on construction and development, and advance architecture in service to the needs of society.
Press Info
UIA
news@uia-architectes.org