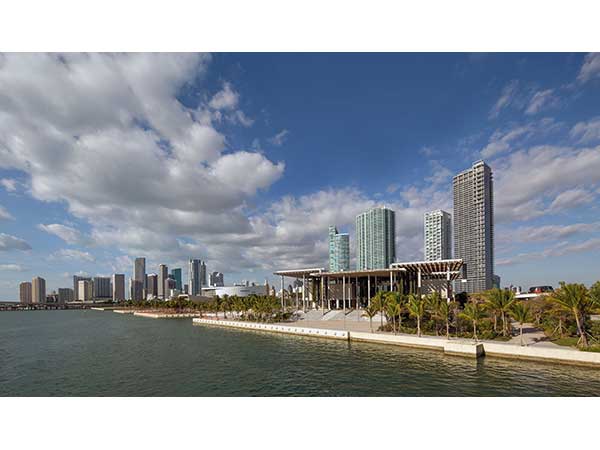 Landscape, Architecture and Interior designs merge to create beautiful, functional and sustainable solutions.
Under the leadership of Laurinda H. Spear, FAIA, RLA, LEED AP, ASLA, IIDA, the independent studio, ArquitectonicaGEO, is at the forefront of the fusion of Landscape, Architecture and Interior design. A paradigm shift towards environmental design began in 1993 with Arquitectonica's Ballet Valet, an award-winning 'living parking garage' in Miami Beach, Florida. Since then, this diverse studio has been privileged to work on some of the most exciting and high-profile projects, in collaboration with world-class architects, artists and engineers.
The Latin American and Caribbean markets are primed for investment in human and environmental capital that will drive long-term economic growth. Urban projects that blend green infrastructure, parks and cultural components into residential, office and commercial developments have the capacity to create jobs and improve a city's livability. ArquitectonicaGEO is honored to be currently serving as Design Architect, Landscape Architect, Interior Designer and Planner for The National Institute of Higher Education, Research, Science and Technology (NIHERST) Science City in Trinidad and Tobago.
About ArquitectonicaGEO:
ArquitectonicaGEO was founded in 2005 by Laurinda H. Spear to design contemporary, technologically informed landscapes based on the principle of preserving a location's geographic character – the entire combination of natural and human attributes that make one place distinct from another – an authentic design process that preserves the ecological and cultural environment.
Working in close collaboration with clients and design and construction professionals to create beautiful, functional and sustainable design solutions, ArquitectonicaGEO has garnered numerous awards for a wide variety of projects. Several have been featured in leading industry publications, including Landscape Architecture Magazine (Perez Art Museum Miami), and Civil Engineering Magazine (PortMiami Tunnel).
Based in Miami, Florida, ArquitectonicaGEO is licensed to practice Landscape Architecture and Architecture, and combines expertise in graphics, interior and product design. Their holistic approach to every project aims to incorporate the best practices for conserving water, soil and plants, and to add community value by improving performance and livability. The international, multi-disciplinary and multi-cultural richness of the firm provides the expertise to examine projects from all angles, and the agility to respond to changing issues of global
concern. ArquitectonicaGEO's vision for the next 10 years is to expand their practice into Latin America and the
Caribbean, where there is a growing understanding of the need for sustainable, forward-looking designs.
Contact:
Elaine Mills, LLA, LEED AP
Marketing Project Manager
emills@arquitectonica.com
http://arquitectonica.com/geo/