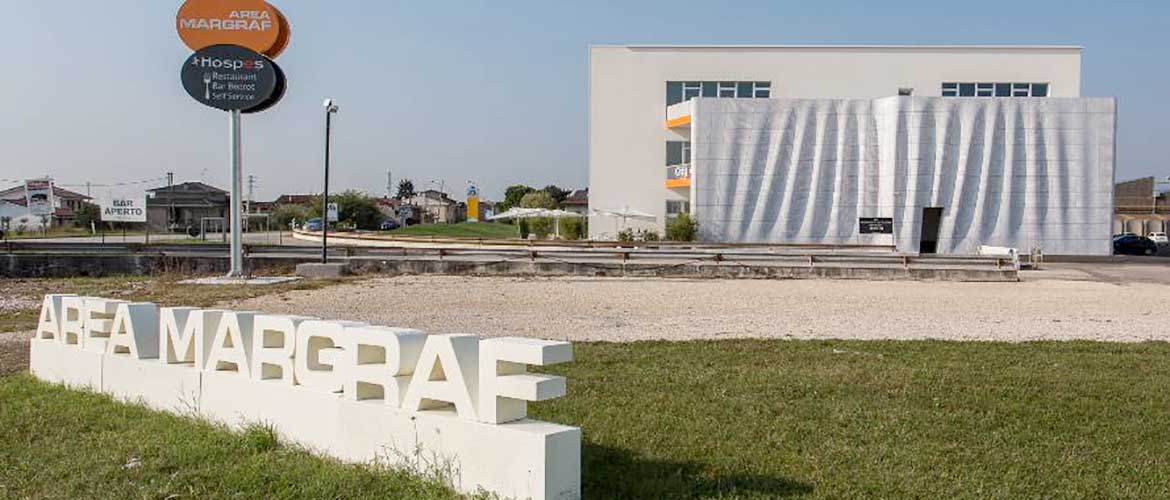 Near the Montebello (Vicenza) exit on the A4 Milan – Venice motorway lies the Margraf Area, which is home to stunning new dining facilities. The exceptional food and wine is complemented by futuristic architecture and tasteful interior design, with a common thread running through it all: Margraf marble.
Dominating the entrance is a breathtaking creation by designer Raffaello Galiotto, which is called Ripple. The towering propylaeum with a stunning 3D appearance spans 600 m² and adorns the main façade, next to the car park. It is made of exclusive Margraf Fior di Pesco Carnico marble, which can only be found in a quarry in Forni Avoltri (near Udine).
Cutting-edge CNC machinery helped to ensure that hardly any material was wasted in the challenging production process for the innovative piece, which ripples the smooth, 2D architectural surfaces typically associated with modernism and minimalism. Like a stone in a pond, it sends waves across the flat surface.
Once you step through the door, you will find yourself in the world of the Grey Restaurant & Bistrot, which is run by Hospes from the Elior Group. Architect Massimiliano Corsi of Artè Soluzioni d'Arredo was behind the interior design scheme, which sees guests being welcomed by refined book-match style Fior di Pesco Carnico flooring. The same marble also adorns part of the bar walls, while the striking counter is made of Nero Marquinia marble. The Bistrot is open all day and serves everything from breakfast to evening drinks. It has a special area for healthy and organic foods.
Next, you come to the gourmet restaurant, where a range of Margraf marbles take centre stage among a variety of natural colours, materials and features, including a waterfall covering an entire wall, decorative wooden slats that serve as screens, golden and brass finishes on the chairs, and pastel light blue and green sofas. The beautifully balanced, striking surroundings provide an exquisite backdrop to the highly sophisticated gourmet food and wine selection.
The finishing touches to the complex are added by an outdoor lounge garden and a first-floor business centre with a stunning design, exceptional facilities and meeting rooms of various sizes that boast the very finest technology.
Margraf President Silvio Xompero was a big driving force behind the superior new dining facilities, where only products by the finest local companies are presented and promoted.
Technical details:
Location: Margraf Area – Gambellara (Vicenza) – Montebello exit on the A4 motorway
Interior design: Artè Soluzioni d'Arredo – Architect Massimiliano Corsi
Run by: Hospes – Elior Group
Quantity and types of Margraf marble used:
Herringbone flooring in the bar/restaurant (brushed finish)
•    Lipica Fiorito: 63 m².
•    Grigio Amani: 72 m².
•    Crema Nuova: 93 m².
•    Bianco Laser: 85 m².
Book-match style flooring in the entrance to the bar (brushed finish)
•    Fior di Pesco Carnico: 155 m².
Restaurant counter (honed finish)
•    Luminous: 8 m².
Bar counter (brushed finish)
•    Nero Marquinia: 18 m².
Waterfall in the restaurant
•    Nero Assoluto Granite: 28 m².
Wall behind the counter in the bar
•    Fior di Pesco Carnico 60×60 cm (thickness 3 cm) – 3D wave effect (Onda).
About Margraf
Margraf's story (former Industria Marmi Vicentini) started in Chiampo (province of Vicenza) in 1906. Since its early start, the company devoted to accurate research work and development of new technologies, working in tight collaboration with famous international architects. Today, after more than a century, Margraf is a leading, world stakeholder in this field. Among many other pluses, Margraf owes its worldwide established reputation to its skilful extraction of marble and the ability to transform it into finished, polished slabs or tiny tiles and to provide a huge array of precious materials and excellent products for building construction and architecture (from the cladding of inner and external walls, to interior design items, to bathroom and kitchen decoration). On top of all this, Margraf ensures extensive environmental compliance investing any efforts to minimize any possible kind of environmental impact. This includes the use of cutting-edge technologies, the implementation of landscape recovery and energy saving practices, as well as the exploitation of renewable resources. Margraf is a perfect merging of past and present forming a first-class enterprise eagerly turned to the future.
www.margraf.it
www.facebook.com/margraf.industriamarmivicentini
#twitter @margrafspa
Press info:
Nicolò Soranzo | GAGLIARDI & PARTNERS
www.gagliardi-partners.it